(Image courtesy of brooklynvegan.com)
Uh, Puberty 2? My first instinct is to say no thanks – just speaking for myself, not a sequel I'm interested in. Fortunately, deep-thinking New York indie songstress Mitski makes her fourth album far more enjoyable than adolescent awkwardness.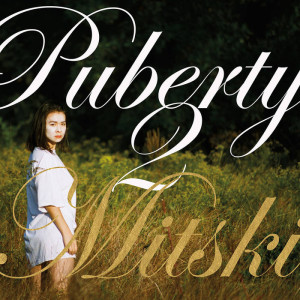 Puberty 2 is a constantly interesting, challenging and well-produced album, mixing all kinds of different noises and dynamic shifts with Mitski's powerful voice, melodic sense and fascinating poetry. The result is a varied album you'll be unpacking sounds – and lyrics – from on repeated listens.
Mitski's range, both vocally and stylistically, is impressive. Some of these tracks are accessibly mystical, showcasing love-centered lyrics that vacillate between crystal-clear and fascinatingly obscure. Some are jagged, and some just plain rock, with Mitski exhibiting a controlled power suggesting Angel Olsen on steroids. And all these sounds … producer Patrick Hyland does a heck of a job keeping things fresh with these arrangements.
One minute, you'll get opener "Happy" feeding you a honking sax line and a chugging, think-my-computer-froze-in-the-middle-of-the-song electronic percussion behind Mitski's floating melody. The next, you might get the driving rock and hooky '80s-style synths of "Dan the Dancer" or the mega-loud wall of awesome behind the powerfully belted romantic regret of "Your Best American Girl."
The moods Mitski explores here constantly demand more than surface attention. On 92-second rocker "A Loving Feeling," she asks what you do with such a feeling "if they only love you when you're all alone." Jarring titles "My Body's Made of Crushed Little Stars" and "Crack Baby" don't disappoint when you dive into the words; the brilliant metaphor of the latter finds Mitski noting to the titular "crack baby," "You don't know what you want/But you know that you had it once/And you know that you want it back." The former, a frantically strummed slice of anxiety, manages to cram in impulsive thoughts like "I better ace that interview" and "I wanna see the whole world" with a vow to "pick an age when I'm gonna disappear."
Hopefully, that age is a long way down the road. Mitski is the rare artist who clearly takes meticulous care of every song while at the same time keeping each one crisp and to the point; only one track here is longer than four minutes. Offering every musical state from atmospheric to charged, Puberty 2 marks Mitski as one of indie rock's most versatile and at-peak performers.
Rating: 4 stars out of 5