Out of all the talented victims of rock 'n' roll and roots becoming second-class-citizen music genres in today's popular culture, Heartless Bastards are among the most talented and under-famous.
Formed in Cincinnati before singer Erika Wennerstrom moved to Austin a decade ago and put together a new lineup, the Bastards have churned out five albums and nearly 15 years of solid-to-excellent garage and country-folk rock. Wennerstrom's powerful voice alone has always been worth the price of admission to one of their shows, and their following on the indie circuit has been large and loyal enough, presumably, to pay the bills.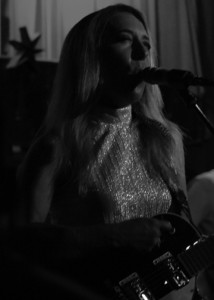 But unfortunately, the mega-success of fellow Ohioans the Black Keys from 2010 onward didn't open the floodgates for Wennerstrom or her latter-day Bastards. Unlike the circa-2002 garage revival that broke the Strokes, White Stripes, Hives, and Vines, the Keys becoming major stars with Brothers, El Camino, and Turn Blue led to modest-at-best gains for like-minded rockers. The biggest dent the Bastards have made on the Billboard 200 is more like a nick – their fine 2012 album Arrow reached a sizzling No. 78. So, far too few people have heard Wennerstrom's nearly unrivaled vocal cathartics, as evidenced by the person sitting next to me at the Continental Club on Saturday night asking if I knew anything about the next act and whether she was any good.
Wennerstrom is putting the finishing touches on her first solo record, which she told Saturday's audience she's been working on for a year and a half. Backed by a full band that included Bastard bassist Jesse Ebaugh, she led a compelling one-hour performance that likely served as a preview of what that record will sound like. Delivering an hour of largely big-sounding country-inflected rock and rock-inflected folk – is "arena roots" a thing? – Wennerstrom signaled the forthcoming album won't be much of a shift from what Bastards fans have become used to on the group's recent records. Wennerstrom's ability to hold concertgoers' ears and eyes hasn't changed, either.
While her band was more than capable, as with any Bastards show, there was no question who the star was. Both on record and in person, Wennerstrom is an arresting fountain of vocal passion. She takes songs that sound as if they started as back-porch therapy sessions and uses dynamic shifts to push them to both new heights and depth, shifting effortlessly from deep tones to high wails and getting more mileage out of evocative, soul-baring "oh-oh-oh-uh-oh" sounds than any singer should be able to at this stage in music history. She means every word, too: Her eyes are either betraying the intensity evident in her voice or closed as she goes high.
Anthemic folky power ballad "Extraordinary Love" – available for streaming in a rough cut on ErikaWennerstrom.com – would have fit right in on any of the Bastards' last few records. "Letting Go" showed more of Wennerstrom's straight country side. The band's one-song encore, the folky Bastards single "Only For You," served as a satisfying finisher for anyone who entered the Continental knowing who she was (but not for my inquiring seat neighbor, who peaced-out somewhere around the third song in the set).
The more straight-rock sound of the Bastards' early days was mostly absent from what Wennerstrom presented Saturday night, but that's not really a bad thing. She's long since found her wheelhouse with a more Americana-drenched sound, and she can likely keep spinning that wheel to produce strong live performances until the day her remarkable voice gives out.
You can listen to two rough tracks from Wennerstrom's forthcoming album on her website here.