For my second South By Southwest Music Festival, I again remained a cheapskate — no badges, no wristbands — and I didn't come out of it with regrets.
SXSW is a festival where "free" goes a long, long way. And I'll gladly report that none of the sets I saw during this year's edition were disasters that tempted me to demand back the money I didn't pay; for example, I wasn't there for the apparently nightmarish Crystal Castles set at Stubb's. Everyone I saw play had their merits, but of course, some were better than others.
Ultimately, despite elements that can infuriate locals, SXSW works itself out. Sure, having been entrenched here in Austin for about two years now, it's easy to succumb to cynicism when you feel tourists and alien music lovers sucking the oxygen out of "your" city, and when you see parking garages that normally charge $15 outrageously getting away with charging $80 (even if you're wisely finding other options for parking). But you can forget all that noise if the noise coming from the stage makes you happy. And once again, my SXSW experience delivered.
Here's a look at most of what I saw at this year's festival, in order of favorite set to least favorite: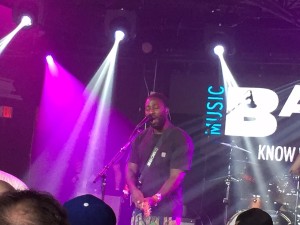 Bloc Party – Friday, Empire Control Room
Technical difficulties kept Bloc Party from taking the stage until 20 minutes past their scheduled time, an excruciating wait for Empire Control Room fans packed together at the venue's outdoor stage. Fortunately, the London foursome made up for lost time by rocking the hell out of things once they finally made it out. It might make you feel old to realize Bloc Party's been around for more than a decade now, but that experience might also be a reason they look and sound so seasoned onstage. Lead singer/rhythm guitarist Kele Okereke, in particular, has that rare ability to burn through a searing, uptempo track without looking like he's really breaking a sweat. Now that I've heard "Banquet" live, my life is a little better.
Diet Cig – Saturday, Cheer Up Charlie's
Short girls who struggle to see anyone on the stage at bar shows, you finally have an advocate to rally around: excitable, likeable Diet Cig singer-guitarist Alex Luciano. Vertically challenged herself, Luciano urged taller members of the outside crowd Saturday afternoon at Cheer Up Charlie's to get out of the way and "make room for those girls!" so they could march toward the front of the stage and, for once, see what the hell was going on. Granted, Luciano waited until Diet Cig had about two songs left in its 30-minute set to issue that order, but still, it was a sweet gesture. And Luciano and drummer Noah Bowman seem like they've got the makings of a pretty sweet band in Diet Cig.
Wearing a red cap and pogo-ing all over the stage with a guitar that might've been about half her body weight, Luciano took on the image of a peppy punk Peter Pan, sweetening the band's rough guitar attack with a voice that sounds at times like Waxahatchee's Katie Crutchfield. Luciano's earnest excitement offered a sharp contrast to the just-stand-there-and-play stylings of Car Seat Headrest, which preceded them on the Brooklyn Vegan stage at Cheer Up Charlie's, and Diet Cig certainly left the audience wanting more than they've even recorded so far. A band with only one five-song EP and a couple of singles to its name so far – and no released song clocking over three minutes — Diet Cig is worth checking out and keeping an eye on. The video for "Scene Sick" sums up Diet Cig, and Luciano's stage persona, pretty well.
Blondfire – Friday, Empire Control Room
Unlike Blondie — which made special effort in its early days to let people know that was the group's name, rather
than Debbie Harry's stage name — there's no distinction to be made about Blondfire. It used to be the name of a band, but now, Blondfire is simply Erica Driscoll, and Ms. Blondfire showed Friday she has enough presence to carry a band-sized stage name on her own merits. Driscoll's ethereal but assertive voice carries catchy tunes over well-crafted alternative pop beds, and she and her backing band delivered a solid set highlighted by "Waves," from 2014's album Young Heart, and their most recent single, "True Confessions." Driscoll displayed pop star potential, just as Zella Day did at last year's SXSW Pandora Discovery Den.
Day Wave – Friday, Spotify House party
Seeing Day Wave live, you'd never guess they're one of those "bands" where the name actually represents one guy; Day Wave is just Oakland's Jason Phillips, who performs with three sidemen. The funny thing is that their set at the Spotify House presented them as an effective, democratic live band. By "democratic," I mean that over the course of a 30-minute set, everybody got a chance to shine at one time or another. Vocals (particularly choruses) are a three-man operation, and Day Wave's beach-ready, dreamy indie-rock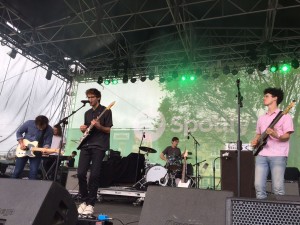 songs ultimately feature all parts of the composition, rather than focusing on Phillips himself.
Day Wave's sound is reminiscent of Real Estate, and Real Estate does it better. But Phillips' approach makes for enjoyable listening in its own right, and they didn't disappoint at Spotify House.
Pure Bathing Culture – Saturday, Cheer Up Charlie's
One of Portland's most popular indie exports of the moment, Pure Bathing Culture is a duo that goes for pretty, dreamy pop music, the kind that requires either maximum concentration or minimum acknowledgment as you use it for background music. PBC — vocalist/keyboardist Sarah Versprille (photo above) and multi-instrumentalist Daniel Hindman, along with backing musicians — represented themselves and their sound ably on Saturday at Cheer Up Charlie's but didn't approach any sort of onstage inspiration. The live version of "Pray for Rain" — the cool, beat-heavy and well-produced title track of the band's latest album — sounded a step slow and didn't cut the same sturdy presence live that it does on record. Right now, Pure Bathing Culture, like many dream-pop acts, whispers a better musical proposition in your earbuds than it does onstage, but that doesn't mean they're not worth catching if you have the chance.
DNCE – Thursday, Waterloo Records
Love 'em, hate 'em, or harbor indifference to 'em, the Jonas brothers (the siblings, as opposed to the band) don't appear to be going away anytime soon. Joe Jonas' new band, DNCE, already is a major pop force of the moment without a full album out yet, thanks to the guilty-pleasure dance hit with perhaps the ultimate guilty-pleasure title, "Cake By the Ocean." (If that indulgence doesn't sound good, I don't know what's wrong with you.) DNCE's set at Waterloo Records on Thursday afternoon naturally closed with "Cake By the Ocean" and also included a cover of TLC's "Waterfalls." A half-hour of DNCE's processed-but-reasonably-effective pop is about the limit for me, so they wrapped it up and took a collective, congratulatory bow to Queen's "We Are The Champions" at just the right time. Special mention should go to the look of bassist Cole Whittle, who had to boast one of the all-around funkiest presentations of any SXSW musician: A thin Mohawk worn on the right side of his head, a floral-print robe, and pajama-looking gray-and-black plaid pants pulled past the navel to Urkel height.
Car Seat Headrest- Saturday, Cheer Up Charlie's
These dark indie favorites – led by Will Toledo, who's now recorded 12 albums under the Car Seat Headrest name since 2010 – brought able playing to the Brooklyn Vegan show Saturday at Cheer Up Charlie's. CSH's brooding, sometimes drowsy, occasionally explosive hard rock, topped with Toledo's deep, moody drone of a voice, sounds something like a '90s basement band with the National's Matt Berninger delivering vocals three minutes after waking up. It's engaging music if you're into that sort of thing (which I am, mostly), but Car Seat Headrest's stage presence needs some work. Toledo and band may not have looked uncomfortable, exactly, but they didn't connect with their audience or even look much like they were enjoying themselves. In fact, they called to mind a band of high schoolers playing a house party who are afraid to be too animated for fear the whole school might make fun of them.