When I caught up with Seattle's Thunderpussy shortly after their set at Austin City Limits Weekend Two, singer Molly Sides answered one question with a reference, just in passing, to "the world of Thunderpussy." That led to the next question: What is the world of Thunderpussy? How would the band characterize that world?
"Inclusive," was Sides' initial one-word response. And I expected a serious, philosophical answer to follow, one that would tie the hard-rock quartet's reason for being to some part of the social and cultural movements of today.
Then, Sides followed up: "Inclusive pussy."
Just like that, we were off the rails.
"It's like a fuckin' dive bar with fog," chimed in guitarist Whitney Petty, "and the people have been there for like seven days."
"And crushed red velvet," added Sides, and she and Petty continued improv'ing building blocks of the increasingly sordid world they were building from scratch:
"Dancing, and hugging each other," Petty said, "and they're all sweaty, and maybe half-naked —"
"But there are showers in specific places."
"Golden showers, maybe. Damn. The world of Thunderpussy, it's a sexy place," Petty said. "Disco balls everywhere, everybody loves everybody."
They still weren't done.
Sides: "And by golden showers, you mean golll-den showwwwers."
"Glitter. Gold glitter … their corneas are getting scratched and shit, there's so much glitter everywhere."
"Sequins. Glitter. Fog."
"Inflatables."
"If you've got a good heart, you are welcome," Sides finally said, and I figured we might be wrapping up the question on an actual inspirational note. Wrong:
"It's a slippery place," Petty said.
But that detour into absurdist, sleazy fun represents the band's music better than any serious answer to the question could. Musically, the world of Thunderpussy is one of hard, sharp rock that roars with vintage car-radio riffs and escapist lyrics that nod to the '70s and '80s. Songs like "Velvet Noose," "Fever," and "Speed Queen" — the opener to their self-titled album and their ACL Weekend 2 set — deliver exactly the kind of pure old-school rock hedonism you'd expect from their titles. If some of the rock revivalists of today seem too much like imitators of their influences — for example, Greta van Fleet basically sounding like a Led Zeppelin tribute band — well, Thunderpussy is the real deal, with their own voice.
If you didn't catch them at Zilker Park, you'll have another chance this Monday night, when they perform at Emo's. Onstage that Sunday afternoon at ACL, they exuded a swagger befitting their music, collectively rocking with palpable confidence as Sides slithered and grooved like so many rock stars used to do, but rarely do anymore.
"I spent my entire youth just playing air guitar to Aerosmith, just jumping up and down in front of the mirror," Petty said. "If I play well, that's cool, but I'd much rather just look great."
There's certainly traces of Aerosmith, along with AC/DC, the Stones, and lots of other trashy fun from the same general era. But there's no real hint of grunge in the group's sound, which makes it interesting that they took off thanks to one of Seattle's grunge legends: Pearl Jam's Mike McCready, who now has the band signed to his label, Stardog Records, and briefly joined them onstage at ACL. For the most part, Thunderpussy doesn't have a deep connection to the city's grunge heritage. Bassist Leah Julius is the only one who grew up in close proximity to Seattle, but her work as a younger musician is rooted in punk. The others are transplants, and drummer Ruby Dunphy moved to Seattle to study jazz. But…
"Nirvana's my favorite band. So there you go," Dunphy said. "I don't like any other grunge band from that time, but I love Nirvana."
"Does Ruby play the drums even remotely like Dave Grohl? Not even close," Petty quickly added. "So I don't really get that. But Ruby, she claims that she loves him as a drummer."
Thanks to McCready's help, promotion and friendship though, Pearl Jam now looms large in the group's orbit.
"It's really amazing how much of a force they've become in our lives," Sides said. "And that's kind of the special part about getting to know Mike, is that we didn't know much about him before. And now, we have started to develop a really special friendship and family, really, within the PJ world. It's spectacular."
I didn't want to ask Thunderpussy about feminism specifically — I'd read they're understandably not too keen on that, or on questions that imply being an all-female rock band defines them. But I did want to ask them about something I've noticed about female rockers and female-fronted bands in the last few years — simply, that they're killing it, churning out enjoyable and innovative music in about every permutation and subgenre of rock music everywhere you look. Is there something about today's social climate that's emboldening female artists and inspiring their best music?
"I've been thinking a lot about this — not just women, but I think that now is a really important time for LGBTQ," said Sides. "It doesn't really matter what you identify as. It's not about your parts, it's about your personality and the power that we all hold. And now I think people are more willing to open that up and start more conversations and become more creative and throw it out there. And it's important, especially [now] —"
"There's always been female artists, female bands," Julius said. "It's just no one really cared about them."
"I was watching 'Titanic' last night — yeah, it was on," Sides added. "And when Rose's mom is like, 'Of course, it's not fair — we're women,' that, last night, hit me more than ever. I was like, 'Oh, shit.' And we've been saying it in the movies forever, and the point is still potent. But now, it's like, unleash. Let it out."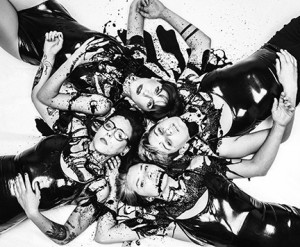 That unexpected back-and-forth on what the band's "world" entails came via a question on one of the band's biggest claims to fame in its short career: Its battle to trademark its name. The United States Patent Trademark Office initially denied the band's trademark application in 2015, calling the name "scandalous." Urban Dictionary, incredibly, played a role in the government's decision — Forbes has a good, legally drenched summary of the fight here. Long story short, Thunderpussy has a trademark in Washington state, and at the moment, things look promising for them in their battle with the PTO.
They've heard about the trademark thing a lot, but they're no less willing to speak on it. "We'll keep talking about it till it's no longer an issue," Sides said, with Petty adding an emphatic "#trademarkthunderpussy."
Has the battle become an anti-censorship crusade?
"I don't think we have any anti-anything crusades in the world of Thunderpussy," Sides said. "But we definitely will take on a fight when it is a bigger issue, and when it definitely has something to do with us, our people, or everybody, really."
"It has far-reaching ripples," Petty added. "So of course, we think about it now all the time. Didn't think about it before, but now, it's like, what the fuck are they doing? It's a fucking free market, you know? Let the marketplace decide what's right and what's wrong. I think people are scared of the 'pussy,' you know what I'm saying?"
It's a word they want to help remove the negative connotations from, and in that vein, they're not afraid to say it — a lot. They're especially not afraid — circumstances willing — to someday hear their name out of the mouth of one particular member of Hollywood royalty.
"Soon enough, we will have a Sean Connery recording of, [Connery voice] 'Thunderpushy.' It's a dream," Sides said. "Sean, are you listening?"