Let's just say that if you attended Weekend 2 of Austin City Limits 2018 and subsequently decide not to vote, you're not very susceptible to the incessant urgings of your favorite musicians. In fact, I'd say your will to avoid civic engagement must be world-class.
During another festival full of great music, what struck me the most about ACL 2018 was the contrast in what we saw in 2016. I was there that year, a month before the election of Donald Trump. I'm sure there were artists talking politics. I'm sure I heard one or more of them. I vaguely remember Kendrick Lamar's backdrop visuals that year featuring some Trump imagery.
But I also know the election of 2016 wasn't something the ACL artists of that year highlighted with 1/10 the energy of 2018's ACL artist group. Maybe the relative lack of political engagement at Zilker two years ago was apathy, driven by the fact that at that time, 1) the consensus was that Hillary Clinton was going to win anyway, and 2) Hillary, to put it kindly, wasn't much of a rock 'n' roll candidate herself.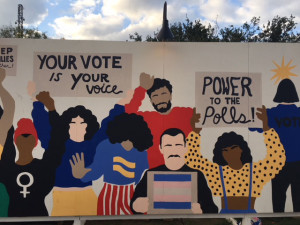 Whatever the reason for the difference, I just know that this year, politics — and more specifically, voting — took center stage. Who ever knew a midterm would get musicians more involved than a presidential election?
"Just fucking vote," said buttons and paper fans. A mural said the same thing less caustically. And artists … well hell, they used their literal platform as though ACL negotiated a GOTV requirement as part of their contract rider.
Mt. Joy's Matt Quinn (top photo) urged fans to vote to make a difference in "what's been an absolutely horrible turn for our country." He then laid it all out there for the Texans in the audience, urging them to cast those votes for Beto O'Rourke. Lauren Mayberry of Chvrches, never one to shy away from politics, had harsh Scottish-inflected words for Ted Cruz. Parquet Courts not-so-cryptically threw their support behind Beto as well before finally naming him, with Andrew Savage and Austin Brown focusing on O'Rourke's support for legalized, regulated marijuana and expunging criminal records for nonviolent drug offenders.
"If only there was someone who wanted to help you," Brown said, referring to drug dealers in jail. "November 6th."
Seeing and hearing all this, again and again all weekend, it just struck me how much more awake — OK, "woke" — the angry beast that is artist political engagement was this year. Along with that aforementioned apathy of 2016, maybe the difference this year was also the fact that O'Rourke is an old punk rocker who brings an element of cool that's still missing from almost every politician. Musicians take to a guy like him.
At any rate, the contrast with ACL of two years ago was striking. Did all the GOTV get trite? Sure, a little. But every election is a big one, and each artist who bravely came out as pro-voting did so with conviction. No one (except the Russians, I suppose) will ever have the analytics to know whether ACL musicians drove voter turnout through the roof in 2018. But you can't blame the musicians for trying. And when I hit ACL in 2020, I'll be using 2018 as a reference point for how much politics permeates the festival in an election year.
So, the music…
Favorite performances
1. Paul McCartney — Spectacular and fun. Sure, it was a nostalgia tour. But damned if it wasn't the greatest time a 76-year-old legend could throw for the entire vast, Beatle-loving world.
Paul's set list hit every era of the Beatles (and in one case, even pre-Beatles). He switched between bass, guitar, piano, and broke out a ukulele to kick off "Something," which smartly morphed into a full-band performance. "Live and Let Die" was a pyro-and-fireworks spectacle. He explained the Civil Rights movement inspiration behind "Blackbird" before performing it solo on a rising platform, celestial images projecting onto the platform and the backdrop behind him. He made a Beatle-ish joke about playing Weekend 1 and getting invited back for "a return engagement." "Hey Jude" was the pre-encore singalong no one could resist. He played only enough of new album Egypt Station to remind you that he has a new album out. Great songs written by John and George ("A Hard Day's Night," "Something") weren't off-limits.
Songwise, it's hard to go wrong when you're Paul McCartney and have the greatest menu of songs in popular music history to choose from — unless you just can't bring it anymore. Paul still can. He's still as outwardly dorky as ever, with a few silly dad dance moves and some awkward peace signs, but he's still a wonder.
2. Chvrches — Truly, for someone who makes that pained hiss through gritted teeth when 90% of synth-pop enters my ears, Chvrches may already be my favorite of all time from the genre. In its revived modern alt-rock state, synth-pop has come a long way in the 35-40 years since the Human League was doing, oh, I don't know … this, for instance.
Chvrches has nearly or fully perfected the form, led by Lauren Mayberry, a high-register singer with pure stage presence. She's full of power, dynamics, attitude, and life — whether spinning arms-out "Sound of Music"-style, playing animated air drums, or "climbing" onto one of two roughly 1-foot-high platforms on either end of the stage. (Does that extra foot really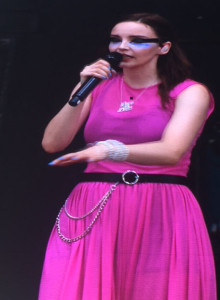 help you out much?) "Get Out" followed by a head-pounding "Bury It" was one of the best opening 1-2 punches of the weekend; in particular, "Bury It" drove home how hard a synth-drum break can hit. "Leave a Trace" and "Recover" were also top-notch.
3. Jungle — Seven members, four lead vocalists up front, and about an hour of nonstop dancing. That's Jungle, which has little ambition other than to get you moving, and does it exceedingly well with a funk-on-funk, Curtis Mayfield meets Earth, Wind & Fire vibe that produces one good beat and one good falsetto vocal hook after another. Not surprisingly (if you've heard them), "Happy Man" and "Heavy, California" were among their standout moments.
4. Janelle Monae — I only caught about half of Monae's set, but she was nothing but impressive, confidently delivering a costumed, audacious performance more elaborate and artistic than about anything else you'd see in an afternoon set. Climbing onto a throne for "Django Jane" didn't come off as too self-congratulatory. It came across as a bold statement by someone who's building a case as one of the best, most creative R&B exponents of the '10s.
5. Parquet Courts — The beauty of Parquet Courts is how well they take about every element of classic punk rock, new-wave, or related music and make it their own. They can kick up rousing two-minute, mosh-friendly noise, or they can surprise you with their (usually rough-edged) melodic and/or tender side. As impressive as it is to see Savage maniacally rip through one of their high-speed anthems — and it is — I particularly enjoyed "Mardi Gras Beads," a midtempo number from their newest album with a late-British Invasion melodic quality to it. (For multiple artists, those "not quite like the rest of the show" moments were a hit all weekend for me.) And those power-drill songs from the Courts just felt right for a hot, sunny afternoon.
Honorable mentions: Alvvays, St. Vincent, The Wombats, Thunderpussy, Bishop Briggs
Most disappointing set: Arctic Monkeys
It appears Arctic Monkeys — studio-wise, one of the millennium's best rock bands — are just a little too proud of what they've done over the past seven years.
Since their 2011 album Suck It and See, they've inched away from the pub-rock roots that made them such an exciting new face in 2005-06. They've broadened their horizons, and on record — excepting this year's lounge-y, plodding Tranquility Base Hotel & Casino — it's been a mostly impressive transition, with a widened musical palette and Alex Turner's ever-more-intriguing lyrics.
But on Sunday night, they presented themselves as a headliner with little inclination to entertain visually, engage with the audience, or deliver any extended runs of sweaty hard-rock punch.
Their song selection was questionable — why "Library Pictures," for instance, one of their most lyrically nonsensical songs, and no "Fluorescent Adolescent"? A seemingly endless run of their slow and midtempo stuff in the extended middle of their set had hundreds of concert goers flocking to either see Travis Scott or head home. Arguably worse, dead air between songs was protracted. And at a major festival where visual augmentation is pretty much obligatory for a headliner, the Monkeys offered … lights. Just lights.
They did ultimately finish strong in their encore. After coming back out with the crawling Tranquility Base track "Star Treatment," they wrapped it up with a hard-hitting "Arabella" and an even harder-hitting "RU Mine" that rightly drove the crowd nuts. Frankly, that was nearly the only moment where it really felt like this was a Big-Time Rock Band playing a Big-Time Rock Concert. It didn't, however, save their set from disappointment.

Sunday's top single-song performances
I posted my favorite single songs from Friday and Saturday, so, to tie up all my loose ends, here are the song performances that stood out on Sunday. In no real particular order:
— Arctic Monkeys, "RU Mine" — As noted above, dudes needed a strong finish, and they provided one.
— Janelle Monae, "Django Jane" — Janelle atop the throne, showing some nasty rapping flow while dissecting her identity and taking stock of her accomplishments thus far. "Jane Bond, never Jane Doe/And I Django, never Sambo" — could black female empowerment be expressed any more powerfully or concisely? Doubt it.
— Thunderpussy, "Speed Queen" — Seattle traditional hard-rockers — more from them later this week — made a strong opening statement in their Sunday set, with '70s-guitar-glory riffage and a sexual lyric that falls right between Jagger/Richards and AC/DC.
— Houndmouth, "Black Gold"/"Sedona" — For me, there was something about the no-break, no-warning transition from "Black Gold" to Houndmouth's irresistible singalong hit that elevated both songs. They worked well as a medley.
—St. Vincent, "Pills" — St. Vincent had the most compelling visuals I saw all weekend. Seriously, an art student could write a treatise breaking down what she was trying to say with all the trippy, computer-enhanced imagery of herself that she deployed on the backdrop. One striking example: mysterious blue liquid spilling slowly out of her mouth while she's on a rotary phone, then receding back into her mouth. Who needs to watch the live St. Vincent when you've got that on the screen? It was transfixing. And on "Pills," the backdrop was just as weird: An underwear-clad St. Vincent whose forearms/hands detached themselves from her arm, patted her down, grabbed her neck, and manipulated her facial expressions. That plus the manic, primitive energy of the song ("Pills to wake, pills to sleep, pills pills pills every day of the week") made the whole package stand out.
Favorite totem
This one right here below. The carrier of this totem was honest with me; his friend had made it for Weekend 1 and let him have it for the second weekend. Behold the cleverness.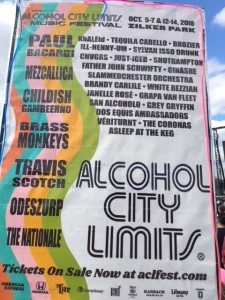 And finally, a few notable covers from the weekend
This category is for my wife, who's got a soft spot for covers:
— Every Beatles song covered by Paul McCartney. Just kidding. Hee hee. For real now…
— Japanese Breakfast, "Dreams" (Cranberries) — Hard to get more appropriate than this cover, as Michelle Zauner's, well, dreamy high vocal delivery is pure Dolores O'Riordan.
— Mt. Joy, "Don't Let it Bring You Down" (Neil Young) — I've always particularly liked what Annie Lennox did with this pretty Neil Young tune, but Mt. Joy's version was none too shabby, sticking close to its folk-rock roots.
— Parquet Courts, "Today Your Love, Tomorrow the World" (Ramones) — A deep cut for true believers of the early days of punk, as Parquet Courts blistered through the closing song of the Ramones' 1976 debut album. Put the right wig and leather on Andrew Savage, and his gruff delivery could make him an effective (if too short) Joey Ramone impersonator.