Seeing Carson McHone live at this stage of her career is just plain exciting.
She's spent the past several years conquering Austin's considerable fan base for true, traditional country music. Not only is her voice a wonder — clean, sensitive, subtly edgy, and accessible all at once — but her original songs contain about every element of what makes her genre great, and none of what makes its modern pop perversion generally terrible.
At Thursday night's Cactus Cafe release party for her new album, Carousel, she ran through most of her best tracks so far, and also reinforced something suggested in her recorded output to date: Provided that the market for "real country" is still out there, McHone's career could become just about anything.
Down to Earth and personable onstage, McHone connected with her audience both in-song and out. Her voice is superb, her phrasing and dynamics taking her songs on delightful, sometimes abrupt catches and turns. She has only a light trad-country twang that's easy on all but the most supremely twangophobic ears.
In fact, the only drawback from Thursday's show might've been when her skilled backing band occasionally overwhelmed the starring voice a little during some of the more uptempo numbers. That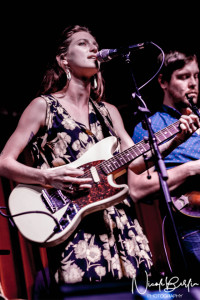 could've been merely the acoustics from my vantage point, and anyway, the tiny Cactus Cafe and its proportionally tiny stage seem like a particularly tough place for a six-piece band to play (things got even tighter when McHone invited the lead vocalists of opening act Warm Sugar onstage, prompting a joke about whether the eight of them were "breaking a record.") But either way, overall both McHone and her backing players delivered.
After performing her opening song on vocals only — which she told the crowd was an unsuccessful attempt to ease her nervousness — McHone contributed guitar and later added a harmonica around her neck for the outstanding ballad "Dram Shop Gal," one of several older songs re-recorded for Carousel. "Good Time Daddy Blues," another older one with a country/blues split of about 60/40, displayed her uptempo chops.
Recent singles "Drugs" and "Sad" — although that latter word makes me derisively snicker these days because of its repeated use in a certain world leader's tweets — both made for striking performances on Thursday. And both can be considered defining examples of what makes McHone so promising right now. "Drugs" smoothly rides on an intriguing, not-quite-what-you-expect romantic metaphor. "Sad," as well as perhaps any McHone song, exemplifies how the traditional and familiar become something a little bit new in her hands — in this case, traditional country melancholy. "Well here's the deal/I got this thing/I call it 'sad'/And it calls me home," she sings. But it's more than just another straightforward life-sucks lament; later, you learn "Sad" has a gender, and "she comes out late at night/And makes me do things I don't like."
The voice, the songwriting feel, and — as demonstrated Thursday — the easy, unassuming showmanship are all there. Carson McHone may take another step forward and deservedly find more fans she tours Carousel. But least for now, we in Austin can still call her home. And that'll never make us sad.
Photos by Nicole Berlin Photography