Friday was the cold day that turned out fine. Saturday was the day an artist went AWOL. Sunday was the day everything was perfect.
Force me to reduce Austin City Limits Weekend 2 in 2019 to one sentence per day, and it would look something like that. Granted, it's not fair to Saturday, Oct. 12 to define it by its no-show, as the day was chock full of performers who not only did the bare minimum and showed up, but also performed wonderfully. But on-point performances are commonplace at ACL. Zero-notice no-shows are not, so if Saturday needs to come down to a sound byte, there you have it.
Luckily, each day left me with a longer impression than one sentence can capture. I've now been part of four ACLs, and 2019 may be the most all-around memorable. Each day out, it seemed as though unique forces were at work, making all three chapters stand out in both good ways and bad.
I'll kick off this recap with the 5 Most Memorable Moments/Aspects of this year's festival:
1. Lizzo takes over — As I noted in my day 3 quickie recap, I didn't hear a lot of Lizzo on Sunday night. I saw a little of her. I saw a lot of people — thousands upon thousands upon thousands of them — pushing, maneuvering, and clustering across the full capacity of two stages and lots of other real estate to see one of music's newly minted superstars and social crusaders. Everything about the scene — the vigil of lit cell phones, the moving, massive singalong to "Truth Hurts," the wave Lizzo prompted the crowd to do, the awe of everyone taking in everyone else around them — made being there an experience worth telling. That I could discern precious little of the music was beside the point. That was legendary, period.
2. Childish Gambino's big final entrance — Confirmed by Donald Glover himself minutes later as "our very last fucking show," this Saturday night headlining set was reportedly the end of Childish Gambino as a project, if not Glover's musical career (late in the set, he strongly implied he still plans to record). After about six minutes of a low drone and a dark stage, Childish left us wondering when the hell he was going to start, anyway. Then, seemingly out of nowhere, he appeared atop a rising platform not by the stage, but by the control tent, shirtless and bathed in white light. The godlike emergence, tracking Childish's gospel-inflected hip-hop/R&B extravaganza, felt appropriately miraculous. (Top photo of Childish Gambino by Charles Reagan Hackleman for ACL Fest.)
3. Megan Thee Stallion stands up the festival — While Lizzostock one day later might have redefined "big crowd," by any normal measure, Houston rap upstart Megan Thee Stallion had a large crowd waiting to see her 1:15 set Saturday afternoon. The faithful eager for "Hot Girl Summer" mostly waited her absence out through one ominous announcement that she hadn't arrived yet, and then a second, a little before 1:45, that she wouldn't be performing. Megan tweeted a midnight apology (light on explanation) and promised to do a makeup show for her "atx hotties." One wonders: 1) Who the hell just sorta doesn't make their set time for a major festival, especially when you're a young riser with just one major hit and one minor one? 2) How much difficulty will MTS have getting herself booked for festivals in the future? and, 3) Will the "atx hotties" get a smokin' discount on the promised makeup date, given what a blatant splash of cold water this was on their weekend?
4. Billie Eilish kills it — and gets her ring ripped — Arguably, to have the most representatively 2019 ACL experience possible this year, there were two "of the moment" performers you had to see. Lizzo was one. Billie Eilish, whose total takeover of teen culture and the pop charts is damn near inexplicable in context, was the other. I wondered how Eilish's dark, weird, almost-everything-pop-isn't-today music would translate to the stage, and also how much presence she would bring, still being just 17 for a couple more months. But Eilish's background is steeped in showbiz (more on her performance below), and it showed in her Saturday set. She comfortably held court in front of a headliner's crowd, performing each song with staggering self-assuredness. That self-assuredness perhaps showed itself the most when she wandered down the center runway for some up-close time with the crowd during "Ocean Eyes." But after she emerged and exclaimed, "Somebody stole my fuckin' ring!" the shock in the crowd was palpable. Eilish waved off the pilfering as no big deal. "Keep that shit," she said to the unknown thief. "Take care of that shit." But it will live as yet another WTF moment you just don't see at every festival.
5. Friday's temperature plunge — Yes, this was my first experience with a hoodie becoming required ACL wear. We'd spent most of the week expecting Friday to be in the upper 70s — and didn't that sound downright brisk and amazing? Instead, we got early afternoon temps in the 50s and some nasty early wind. While some still adhered to the festival tradition of wearing as little as possible, it's safe to say Oct. 11 boasted more clothing than any ACL day in recent memory. Fortunately, the wind held off, and Friday turned out to be serviceably chilly, rather than a day-killer. Still, I won't expect another ACL day that cold for a long time.
---
Best Performances
1. Billie Eilish — "Her fanbase is a shitshow," one person complained to me the next day. Could seem true if you cross the wrong teenagers, I guess; I'm not much a fan of broad brushes. But as I said above, Eilish's self-assuredness and stage presence exceeded my not-low expectations, and her songs, from the pretty to the creepy, all received fine interpretations. She bounced with youthful excitement, sung from her back, ventured into the crowd and looked like someone who's enjoying being on top of the world. Backed by her brother/producer/songwriting partner, Finneas O'Connor, Eilish opened with her biggest hit, "Bad Guy," closed with her best song, "Bury a Friend," and had her fans riveted throughout. When she punctuated "Bury a Friend's" drowsy, disturbing line "I wanna end me" with a throat-slash gesture, it felt to me like art was being served in the face of today's sensitive times. We're in an era when there's a lot of handwringing about art and what's appropriate, and self-righteous blather about what sends the wrong message. But this girl and her big brother are getting their dark, messy art out there to the masses. And the masses, seemingly against all odds, love it.
2. K. Flay — On energy and flow alone, K. Flay's Friday set was something to behold. The girl raps straight lightning, as evidenced on "Champagne," and her set also packed a hard alternative rock punch in the dynamic peaks of "High Enough" and closer "Blood in the Cut." This was an afternoon slot with nothing fancy beyond big sounds, superior spitting and quality stage-stalking, but that was more than enough. Heads stayed bobbing for the whole hour.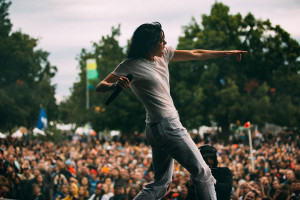 3. Childish Gambino — Does anyone really believe this is the last of Childish? Or is it all just a matter of semantics, knowing that Glover's gonna Glover and he'll likely keep recording under one name or another? We've witnessed our share of First Farewell Tours in recent years. At any rate, Glover delivered upon his promise to make this alleged final show "church" and left it all out there. His dancing somehow manages to look smooth and goofy at once, and he sang, rapped and posed for fan selfies with a vengeance. There was a band, and there were backup singers, but this was an impressive one-man charge to a finish line, capped with a tender "Redbone."
4. Abhi the Nomad — Because I saw him right before marching over to see Megan Thee Stallion, it's possible Abhi's getting a slight proximity boost for, you know, showing up. But under the tented cover of the Tito's stage, the emerging Austin hip-hop star threw a Saturday afternoon party, churning out diverse flows and melodies and (with the help of his band) inviting beats. Abhi's a personable stage commander who sings solidly, raps tremendously, and profanely compliments young fans for getting themselves situated up front for the show. The diverse set also served as a great commercial for his new album, Modern Trash, with highlights Saturday including the smooth, funky "Jungle" and the hard-rock guitar stabs of "Trashman."
5. Brittany Howard — Howard was something of a makeup show for me; at a 2012 radio station concert in Kansas City, I missed the vast majority of what had been an explosive start to an Alabama Shakes performance because I was stuck in an ATM line. Seven years later, Howard's dropped some solo work, and her zest for performing was evident from the jump: "There's so many of you. I like that. Y'all ready to get charged up?" She then spent a captivating hour belting soul and R&B, including tracks from new album Jaime and a couple of well-chosen covers. Power, passion and range: Take your pick on which of the three was more impressive. Howard had them all to spare.
---
Miscellaneous superlatives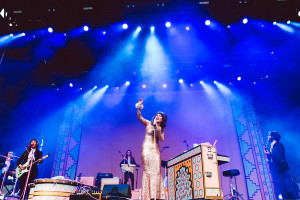 Best display of onstage honesty — "I don't have the stamina to dance to every single song. But we're going to dance to a few of them, so get ready. Dancing? Not my strong suit." — Kady Rain, explaining why her backup dancers wouldn't be onstage for every number during her day-opening set on the VRBO stage Sunday.
Best cover: Brittany Howard, "Breakdown" — Howard's stated tribute to Prince gets the nod over another powerful but more standard cover during her set, Jackie Wilson's "Higher and Higher." Both displayed her incredible high-register capabilities, but "Breakdown" emphasized that three years later, the shock of losing one of music's most prolific talents hasn't quite worn off.
Best day: Sunday — This might come as a surprise, seeing as none of my top 5 performances came from Sunday's slate (although Lizzo would probably be on there if I could've heard it). But the perfect weather — 80ish and mostly blanketed with welcome cloud cover — made for a just-right final day that enhanced the vibe and mood at Zilker. Lizzo's performance was insanity, but a breezy, good-time feel permeated the day through fun performances by the likes of Musgraves, Rebelution, Kady Rain and Mallrat.
Best set decor: Jenny Lewis — Lewis, who might be the first performer off my top 5 list (or maybe it's Kacey Musgraves), was herself decked out in Dusty Springfield-style hair and apparel. Surrounding her were colorfully patterned, '60s-go-go-show type platforms, illuminated rotary phones and … a lounging Garfield figure? Retro, a bit off-center and I dug it.