Led by 18-year-old Lydia Night, L.A.'s Regrettes are something of a garage rock wonder, tackling feminism and other progressive themes with a refreshing directness. Whether their songs are exploring sexuality confusion, a young woman boldly asserting herself as more than a pretty object, or just telling some egomaniac dude to suck it, Night (above left) and the Regrettes can give satisfying release to a wealth of pent-up and appropriately defiant feelings for many. Their stuff roars in the car, too. 
But even when your songs are fast, loud and over quickly, there's a certain threshold of baseline quantity audiences expect when you're headlining a show, as the Regrettes are with the SiriusXM Alt Nation Advanced Placement Tour. Specifically, most fans probably won't expect you to finish short of the time it takes them to stream an episode of their favorite Netflix drama. But the Regrettes did just that at Antone's last Thursday, finishing their headlining set in approximately 35 minutes. (For further frame of reference, their full-length studio debut, 2017's Feel Your Feelings, Fool!, clocks in at just under 47.) Like an EP that leaves you feeling about six songs short of what you paid for, the Regrettes just didn't quite give their audience enough.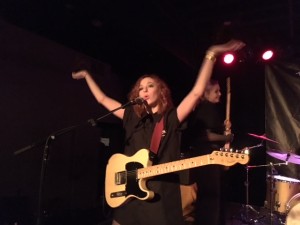 The performances we did get were no problem at all, and they started off more than strong enough with the rock 'n' roll rush of "California Friends," an ode to the dangerous feeling society still gives to same-sex love, punctuated with a call-and-response chorus. Night and lead guitarist Genessa Gariano had plenty of interest in getting the crowd moving throughout the set, and when Night got to put down her guitar, she made use of the nonexistent stage-crowd separation at Antone's, leaning into the people and dropping to her knees for effect. Between songs, with at least a touch of seeming shyness, she made her passion for her music and her musical mission known, such as when she urged the audience to raise its middle fingers for the chorus of the solid feminist anthem "Seashore." (Corresponding chorus line: "I'm like nobody else, so you can just go fuck yourself.")
The set started and ended on its highest notes, closing with "Poor Boy," a new single that effectively attacks and declares war on the culture of silence around sexual assault with a classic primitive punk energy ("Poor boy, what you gonna do/Us girls are coming for you.") Night proudly called "Poor Boy" an important song, and in a year in which #metoo has produced a number of resonant singles, it indeed fits right in.
But when the Regrettes surprisingly didn't return to the stage after "Poor Boy" — compounded by the fact Antone's didn't quickly make it evident there wouldn't be an encore — there was a feeling of letdown. In retrospect, the show felt even thinner when you  account for that 35 minutes having included an amphetamine version of "Last Christmas." It's seasonally appropriate, sure, and would've been just fine if they had played 45 minutes to an hour. But with a short set, it felt like brief-but-precious wasted time, a throwaway when there was no margin for throwaways.
Ultimately, though, the Regrettes are worth giving another try live. More than anything, I just wish they had more music to offer this time around.
Welles
I wish I could easily find audio of the interview of Jeh Sea Wells that I witnessed during his performance at KGSR's ACL morning show in 2017. The deadpan-hippie frontman of Welles was beyond laconic, giving answers to softball questions that struggled to stretch past five words and frustrating his inquisitor.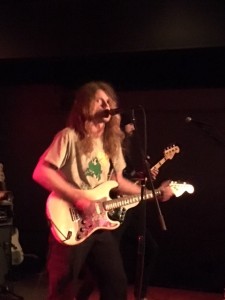 Fortunately, with the full band now known as Welles (with a second "E") behind him and free rein to dictate his own audience engagement, Wells was intentionally entertaining on Thursday, rather than unintentionally so. And Welles (the band) turned in a solid, if unspectacular, set of their melting pot of classic psychedelia and '90s-sounding alternative.
The native Arkansan Wells can make you snicker with his quintessential stoner-ish persona and general between-song goofiness, which included repeatedly responding to post-song applause with "Cool beans!" and willfully uninsightful intros ("This next one … is our third song," "This next song is called 'Seventeen,' and it's about being 17."). But he's capable of snapping into convincing anger when his songs dictate, occasionally throwing in some touches of the backwoods into his lyrics (his debut full-length is called Red Trees and White Trashes). A cover of the Cure's "Lovesong" was probably closer to 311's cover than the original, but with sharper edges than either and a tasty tone on that iconic guitar (originally keyboard) hook.
Micky James
For this performance, at least, the Advanced Placement Tour saved the best for first. An expressive dealer in glammy power pop, New York's James easily bested both the Regrettes and Welles in the stage presence department, strutting and slinging himself around the stage with transparently Jaggeresque moves and making the most of an eight-song set.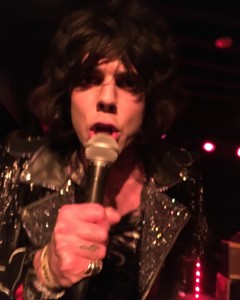 Literally and figuratively, James got in the face of his audience, including myself, as he and his band powered through the high-energy likes of "Tie Me Up," "Give It to Me Straight" and closer "Rest of the Best," his single with Dreamers. Performing with the Regrettes' backdrop already set up behind him, James played both engaging stage hog and dutifully deferential opener, reminding his audience more than once of the two bands to come.
While I came away from Thursday night wanting more of the Regrettes' music than anyone else's, James was actually the performer I wanted to see more of live, daydreaming (or night-dreaming, in this case) about all the showmanship you'd see in a glittery, circa-1974 headlining set. The Struts may be the most successful new-breed glam rockers of the moment, but James has the performative chops to carve out his own section of a glam-revival wave.