On the surface, Jackie Venson's show at Antone's last Sunday had the feel of a victory lap — the joyous celebration of a record deal and a single release, and the culmination of a year gone right.
In fact, her year's been a little more complicated than that.
During 2018, the local blues/rock/pop/soul guitar favorite has taken steps to bolster her reach outside Austin while losing no sheen on her reputation as one of the city's rising talents. She wrote and recorded a slew of new songs, and her list of local gigs included sets at Austin City Limits Musical Festival and Unplugged at the Grove. She signed the first record deal of her career with the UK label Big Indie, which released her first single for the label, "A Million Moments," earlier this month. And she set herself up for a dream of a release party for her forthcoming new album next April at the Paramount Theater.
Talk to Venson, though, and she'll tell you something that may surprise you: 2018 has been equal parts struggle and success. As a spectator who watches her shred, smile broadly and bounce all over the stage, you just don't see the "struggle" part, or any of its lasting effects. But the struggle was real — and some of it was even, in her own words, "torture."
There was the trial and error of touring — figuring out what works, what doesn't, and when it's best to not even hit the road at all. There was also a scammy deal with an alleged streaming promoter that left her fleeced. Ultimately, too, there was the discouraging net result of those trying lessons: Thousands of dollars she'll never see again.
So, considering all of that, what does Venson call her 2018?
"It's kind of like you call it the pasta bowl year, where you just slam an entire bowl of pasta to the wall and see which noodles stick. [It's been] like that," she told me in an interview in early December. "With that comes a lot of expenses, and also with that comes a lot of different kinds of opportunities that I wasn't getting before because I wasn't trying to get them."
The struggles and "torture"
If a performer as young as she is can have a "vintage" designation, the Antone's release party was vintage Venson. The fans, family, and friends who gathered got the full Jackie Venson experience as the Austin native and Berklee College of Music graduate lost herself in a musically diverse set. It bridged her old musical direction with her new one; as she's usually done, she led a three-piece combo featuring Nick Clark on bass and Rodney Hyder on drums. But also onstage, sitting directly to her right: the synth/beatmaker stack that defines where she's taking her music. You could probably say she makes it look easy, but more than anything, she always makes it look fun.
But is it always? Not exactly. For all her acclaim, Venson's still only been a full-time musician for about the last three years, the point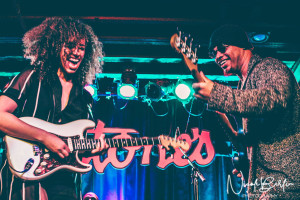 when she left behind nonmusical gigs that included dog-walking and babysitting. And the lessons she's learning about what it takes to succeed have taken their toll this year.
Ask her about those struggles in the 2018 pasta bowl, and she'll start with touring, which she calls an always-changing "multi-dimensional beast."
"There's so many variables," she said. "The more people you have helping, the more expensive it is, but also the smoother it goes. So it's like this, 'Do I spend money on this? Do I not go out?'
"When I was younger, I always thought it was better to go, even if it seems like there's only going to be 10 people there, or if it's just not good. Even if it seems like it's not going to be worth it, it's always better to get out of town, and no matter what, you're going to a different place with different people, and you never know who's going to be there. Even if it's only six people there, you don't know who those six people are. That's what I always believed prior to this year."
But now, she says she's learned that sometimes, touring isn't worth the trouble.
"If we … book a tour, and it doesn't seem like it's working, because it doesn't seem like maybe all the pieces have fallen in the right place, and it seems like everything just keeps on not working out, or it seems like we're trying to push it and force it, I learned that that's an indicator that you probably should just not go. I'd just cancel the tour," she said. "No big deal — stay home and practice. It's a better use of my time than going out and crossing my fingers and hoping that this venue will be open when I arrive in Philadelphia or some shit.
"This year was like a reversal of my old mentality when it comes to touring, so that was a struggle. That was a big struggle. It's hard to reverse an old way of thinking. It took me a whole year and it took me like tens of thousands of dollars to reverse this thinking."
So, that was expensive. So was getting ripped off by alleged promoters who promised to help the music she's streaming on Spotify get more exposure. The result: No spike in streams and more money lost.
"They straight-up just didn't do what they said they were going to do," she said, "and they just took the money and ran. Never heard from them again.
"It wasn't like I didn't do any research," she adds, but, "it just didn't work out. Basically, I just spent the rest of the year actively trying not to think about the other stuff I could've done with this money, and it was just torture. And there's no repercussions for them. … It would be more expensive to try and bring them down than it would be to just leave them alone and just lose the money."
New sounds, new wrinkles
That was some of the pasta that hit the floor. But one noodle that's clinging firmly to the wall: Venson's transition to a more electronic-based sound. Most fans are used to seeing her leading that three-piece band, weaving classic rock, blues, soul, and funk together with a velvety voice and guitar work that's by turns versatile, dextrous and just plain nasty. Her sound has been smooth or rough as needed, but largely a reflection of organic purism, as on the turn-of-the-'60s guitar riffage on soul-rock standout "Transcends" or the gentle funk of "Flying," both on the 2017 Transcends EP. Perhaps to some local concert goers who consider themselves purists, she's been a reflection of what "real music" is supposed to be.
But now, Venson is unapologetically embracing enhanced technology. It was evident during a set at Radio Coffee & Beer over Thanksgiving weekend, where she held the stage herself, armed with her guitar, a synth and a beatmaker that was making its stage debut — and knocked the one-woman show out of the park. And it's evident in "A Million Moments," where plinking keyboards, synth noodling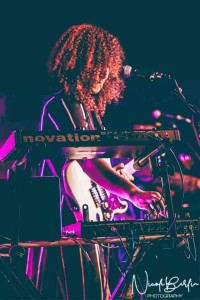 and processed-sounding vocals send the message that this is a new direction for Venson — not entirely unrecognizable from some of the more pop-inflected tracks in her catalogue, but also not exactly like anything she's done before.
In fact, when you ask her what she's proudest of in her musical career to date, incorporating a drum machine into her show is the first thing that comes to her mind. She'll rave about her new drum machine — an upgrade from a previous one — and the difference it's made.
"Normally, in order to change my sound that much, I would've had to maybe hire another writer, or get somebody to collaborate on the arrangements with me. That's normally what I would need to do to change my sound as much as this drum machine has. And it's been an absolute joy," she said. "I feel like it's like some kind of kid or something; I'm just watching it grow, and I'm obsessed with it. It's the only thing I care about. I'm so obsessed writing new songs with it and learning how to perform with it. I would never, ever have found this new thing if I wouldn't have bought or been inspired to add a drum machine in the first place."
And if anybody out there is such a purist that they're bothered by that answer, she has no use for them.
"If they're distracted by the fact that there's a clap and not a real snare drum, they can just skip it. I would hope those people would leave as soon as possible, because I don't want those people at my shows," she says. "I don't want closed-minded people at my shows. Hell, no — get out of here!"
But Venson says the transition to electronics and drum machines isn't just about artistic motivation. It's also about pragmatism — the business of music, the numbers of touring, and the considerations when you can only bring "a finite amount of people" on tour with you. Resources, in other words. She's incorporating it into her recordings because that's how she plans to play live.
"If I can have a just a solo show alone, and if the songs sound like what people are used to hearing because that's how I've been recording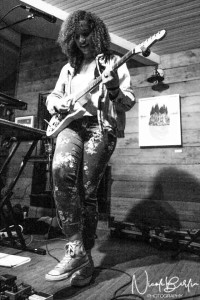 them, then I can put on a full-on show and I can put more money into the production and less money on just getting the band here," she said. If she can go on tour without a bass player, for example, suddenly she's got the flexibility to bring a tour manager. For as much as music may look like fun and games once she takes the stage, she's dived headlong into the practical side, doing all the calculations she needs to do to make it a sustainable career.
"Whether or not you want to think about it, it's there," she said of the business side. "Just wanting to do the music is great, but until you're Beyonce or the Rolling Stones, that's just not what's going to happen. And if you don't figure out the best way to survive and adapt to everything that is thrown your way, then you're going to tank and you're not going to be able to do it at all."
"Nothing else exists"
All things considered, it's good to be Jackie Venson as 2018 draws to a close. She's engaged, with the wedding coming in 2020. The Paramount release party for her next album, set for April 12, is a megawatt thrill for a native Austinite — "I've never headlined a venue that big," she says.
Then there's signing with Big Indie, which bills itself as both a UK and an Austin label. The deal represents not just label support, but also finding people that have a genuine interest in helping her out. She was also relieved that as a starting point, the label only wanted to release the "A Million Moments" single, as opposed to "just wanting to own everything that I'm going to write for the next 10 years."
"It's easy to find people that say that they'll help; it's hard to find people that will care and also help at the same time. If you don't care, then you're really not much of a help," she said. "You know what I mean? It's hard to find people to do this kind of work, because it's a lot of effort and a lot of energy — sometimes a lot of return, sometimes not a lot of return. You never know which one it's going to be. So you have to put in the same amount of effort and energy even if it's going to be not a huge return."
At the Antone's show, one of her last of the year, nothing but confidence and happiness was evident. Venson did what she always does — played crunchy, genre-blending (and genre-jumping) guitar, smiled constantly and told whimsical stories. She rocked out on the likes of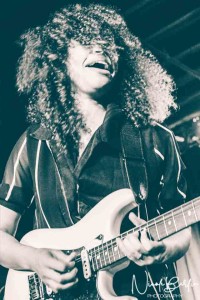 "Fast," played straight blues on "Rollin' On," and gave more than one nod to the shift in her sound. "It ain't real reggae without sound effects, you know what I'm sayin'?" Venson told the crowd prior to "Don't Lie to Me," another of several single releases from earlier this year. For one of her older tracks, she teased, "You've heard 'Always Free' live, but you haven't heard 'Always Free' live with claps." She hyped "A Million Moments" as the moment the crowd was waiting for, but closed with "Transcends," ending on a rock-edged, immediately familiar note.
Even when more roadblocks inevitably impede her career, the positive energy she always brings to the stage may never be abated. Because she says when she gets in front of the crowd, all those problems melt away.
"Any kind of outside stuff, any kind of stuff that's happening around the gig, before the gig or stuff that's coming up in the future in my life, it doesn't exist. It literally doesn't exist," she said. "Because my only job is [getting] the sound out, and staying on beat and keep the song going until the song's over, and then start the next song. And that's it.
"That's the only objective, because otherwise, everybody else in the venue is right there, right now, in that moment, and that moment is never going to be repeated again. Everybody realizes that, and everybody's just standing there waiting to live this moment with me. And that's a huge responsibility.
"They took time out of their day, they drove there, they might've paid to get in, they probably paid for their drinks. They may have even spent some time figuring out who I was, listening to some of my music before coming to the show. Either way, a lot of energy and effort went into those people being there, waiting for me to do the thing that I do. If I focus on anything else, it's going to ruin the show. So I purposefully [think] nothing else exists."
Top photo courtesy Effective Immediately PR
All other photos by Nicole Berlin Photography