When you know you're in the building for one of the greatest moments of an artist's young life, and that artist bleeds that appreciation for the moment all night, well, it's hard not to enjoy yourself, too.
Jackie Venson, in addition to being a spectacular guitarist (Austin's reigning favorite, in fact), is a spectacularly infectious spirit. She'd been talking and posting on the socials about last Friday's album release show at the Paramount for months on end, anticipating her chance to headline a century-old stage she grew up with an outsized appreciation for. When the big moment finally came Friday, she delivered, playing a two-hour set that included a cover-to-cover run-through of her new full-length, Joy, and sweeping everyone up in the enormity of what the night meant for her.
Venson's somewhat famously been playing the guitar for only eight years. Her incredible gift for the instrument, along with her eclectic blues-rock-pop leanings and unwavering onstage exuberance, are what define her still-growing appeal. Her songwriting trails those attributes at this point, but shows increasing promise as she continues an intriguing integration of electronics and beats into her sound. Even when her lyrics settle into motivational-poster philosophizing, you can usually go with it, because you sense the sincerity behind them both live and on record; basically, Joy couldn't be more appropriately named.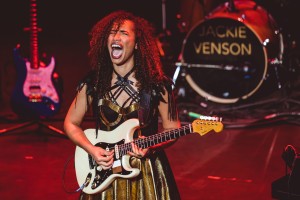 She opened her night with a run of older, non-album cuts, walloping the Paramount with a blasting version of the 2017 blues-rocker "Fast." Soon, she was cutely fangirl-ing out on what headlining at the Paramount meant to her, pointing out where she sat when she saw "The Best Little Whorehouse in Texas" at age 7 and such. Big smiles, jokes, and nasty solos — all trademarks of a JV performance — were in abundance.
Sometime after she got into the Joy tracks, you felt like you were watching an almost chronological documentary of Venson's career. From her bluesier pop to the easy reggae of "Don't Lie to Me" to the mystical, polished electronic pop-rock of "Witchcraft," she seemed to be tracing every musical move she's made, and suggesting she has more new territory to explore.
The ambience of the Paramount and the old-school lighting bolstered the show's rockumentary feel; there was a bit of a feeling you'd been dropped into a concert film from 35-40 years ago, with an emerging guitar queen holding court before you. Venson's wardrobe for the night — a Cleopatra-ish gold-and-black dress and a robe that could pass for a superhero's cape — didn't take away from that sense, either.
But this was less coronation and more celebration — something driven home when friends and family of Venson joined a gospel choir for the big finale. This was one dream of Jackie Venson's that she can finally cross off her list, while knowing that realizing it made a whole bunch of other people happy, too.
All photos by Ismael Quintanilla