Meeting up with Kady Rain for coffee less than a week after Austin City Limits Music Festival announced her as part of its 2019 lineup, I expected one happy and exuberant pop singer. Basically, something matching her breathless, ecstatic Instagram story following the ACL announcement. Vibrant, peppy emotional color to match the literal color always infused into her hair, her outfits, and her stage presence.
I got that. I also got a glimpse into some of what that color obscures: Pain. Trauma. Struggle. More than you'd ever expect was there if you just listened to her giddily endorse someone's "rad-ass dance moves" on her best-known song to date.
"I'm a sad motherfucker sometimes," she told me, something that only sporadically surfaces in her music. Along with the lighter and happier "bops" that did much of the work in propelling her into an ACL performer, she wants to eventually unfurl more of that sad-motherfucker side. She wants to tell a little more of her life story in her music, including the memories that trigger sadness and anger.
It's not like she never gets any reminders of them. Just a few days before we met up — right on the heels of the ACL announcement — Kady had heard from an ex-boyfriend, one who had just gotten out of prison "for trying to kill someone." He called her completely out of nowhere and asked her on a date. On top of that, when Kady told him she was playing ACL, "He didn't say congratulations or anything. He said, 'Aw, get me in.' And I was like, 'Whoa, bro. Way to go on becoming a completely different person in prison.'"
The ex who had the audacity to make that call wasn't even the one who's responsible for what she calls her "near-death experience," an unfathomable trauma in which she was drugged, raped, and ended up in the hospital.
That, as you might expect, was a turning point. Considering what she's done with her life in the five years since then, it's been a remarkable turn. Now, she's trying to put together an ACL performance that will build her fanbase beyond Austin and nearly 20,000 Instagram followers.
But coming on the heels of her biggest musical booking to date, the call from the ex-boyfriend served as an example of how that past is always lurking — perhaps just someone's unwanted, ill-advised phone call away. Years of drug abuse, bad relationships, and general bad shit may be lagging behind her as she charges forward, but those ghosts aren't going away quietly.
"It's like the universe tempting you: Do you want to go backwards?" she said. "Do you want to unravel all of the progress that you've made? Do you want to go back to that little girl that you were back in high school — that insecure fucking person that would let somebody walk all over them? Do you want to go back to that?
"[Or] are you gonna keep being a bad bitch? What are you going to do? The choice is yours."
For someone whose main reference point is the modern pop universe — which itself suffers from a devastating case of sameness — Kady Rain Kale Williams' music is awfully diverse. Putting together her career with a full-time job at a smoothie shop, credit card debt, and a social media presence that's colorful both literally and figuratively, the native Austinite has found the foundation of her own voice in the pop performers who have developed distinct identities.
The bouncy "R.A.D Moves" — which, thanks to a certain national radio outlet, will probably be her defining song for now — calls Taylor Swift to mind. So does the more conventional pop whimsy of "All I Ever Wanted." The nostalgia of "Can't Save Us" carries a Katy Perry vibe. Through even her more acidic lyrics, Kady usually sounds like she's having fun, as in the country-tinged, partially spoken-word kissoff "I Don't Care." For the most part, Kady Rain recorded or live is an invitation to a party; you get either Happy Kady or Happily Defiant Kady.
But if you see her take the stage on Sunday morning at ACL Weekend 2 and assume that she's finally "made it," you'll be wrong. She's still slinging smoothies full-time. The credit card debt is still there. Her mom still sends her job postings for office assistant openings. She's still in the building stages. Or maybe you can call it rebuilding.
One of the nine Kady Rain songs you can find on Spotify — among a handful of singles and the 2016 EP All I Ever Wanted — is the 2018 single "Bad Kids." It's a breezy tribute to acts of youthful rebellion like smoking behind the school and making out in a stranger's car — the stuff that frustrates parents but fades into insignificance. So Kady was just another rebellious kid, right?
Not exactly. She says the lyrics of "Bad Kids" are "infinitesimal" compared to her real childhood and young adulthood, which were filled with drugs, alcohol and abusive relationships. Self-sabotage, she calls it, of the musical talent she knew she had.
"I saw that potential there, but I didn't believe it," she said. "So I spent years just intentionally putting myself down and trying to fit my weird-ass personality into the place where I knew that I didn't belong. I knew that I shined brighter than these other people, but I didn't have that self-worth or that self-value. I hid away from my potential for so long."
Five years ago, the near-death experience unfolded over the course of more than a week. Much of it she doesn't remember. But she knows that her boyfriend drugged her, then left her with their neighbors, who left her with another neighbor. She remembers being raped by the second neighbor. Eventually, a few days after it started, the police came, and she ended up in the hospital, unresponsive for part of an extended stay. She says her attempts to press charges against both her boyfriend and the rapist weren't successful, although she did get a charge and protective order against the boyfriend for a previous threat he made to her via text message. That protective order recently expired.
For five years now, she's been sober — no alcohol, no drugs other than prescriptions. What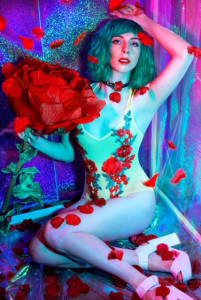 there has been is a lot of work, an enhanced appreciation of the good people in her life, a lot of looking to "the universe" and a fairly dramatic re-orienting of her life that landed her on the lineup of a festival she used to sneak into.
Last year, the work generated some luck of the "WTF, how?" variety. When NPR's Stephen Thompson found "R.A.D. Moves" and made it one of his Songs of the Summer last year — adding it to a list that other NPR contributors populated with national stars like the Carters, Kacey Musgraves, Zedd, and Cardi B — that wasn't the result of any effort from Kady and her management to get NPR's attention. Thompson just found it, liked it and picked it. She didn't even have any advance knowledge.
And when C3 Productions contacted her in late April and asked her if she wanted to play ACL 2019, that came without any advance warning, too. There was no audition process she had gone through, no sending in of tapes or hopeful upload of digital files. She'd made a name for herself, and C3 noticed.
She wants her ACL performance to be "a huge, feel-good spectacle" and have "a fire outfit." She's lined up locals Goons as her backing band. If all goes to plan, she'll have dancers, including her younger sister, whom she calls her original backup dancer. If you see her at Zilker Park this fall and get the feel-good vibe she wants, know that Kady Rain found her way off a treacherous road to give it to you.
"I know that my stubborn Capricorn ass can do whatever I set my mind to," she said. "This has been my dream for my whole life, but for the last five years, after my near-death experience, I have just pursued it with a vengeance, and I'm not going to stop."
Photos by Nina Hawkins