There's some controversy with Sofar Sounds, as it turns out. My Instagram posts about the recent Sofar show at Aviator Nation — my first Sofar experience — prompted one of the bands that follows us to alert me to this recent story from TechCrunch.
Basically, the story details that Sofar, a vast international network of live shows, pays artists like a high-end teenage neighborhood lawnmower for a particularly generous family in Westlake: Sometimes just $100 per band (and of course, if a band has four or five members, you can do the math). Venues, hosts and volunteers on site get zilch, according to TechCrunch. Meanwhile, Sofar can take home somewhere in the neighborhood of $1,600 or more per show. (Sofar says in the story that it plans to use $25 million in new investment dollars, in part, to pay artists more.)
Learning this retroactively dampened my experience, to be honest. Not overwhelmingly, but a little. Musicians are underpaid these days in every facet of their professional existence, and as easy (and true) it is to say, "Hey, nobody twisted the bands' arms to take the gig," gross inequity is hard to overlook.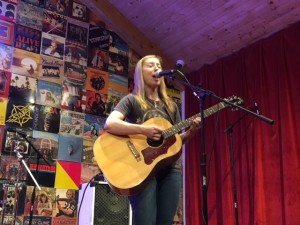 But perhaps that's part of another, more involved post some other time. I went to Aviator Nation intending to write about the experience and nothing else. For now, I'll (mostly) stick to that plan and give three entertaining artists and a game venue their due for a fine, affordable night of live music.
The gamble, such as it is, with Sofar Sounds events is that they carry an initial similarity to Forrest Gump's favorite dessert. You buy your ticket for an affordable price — $15, in this case — with no knowledge of whom you'll see or even the exact location. All you get is a date, a time range to show up and a general location — "South Congress," in the case of the June 10 event, which for all you know could mean any place from the Yeti store to McSpadden's Tire and Automotive. Buy your ticket, and just a day or two before the show begins, you get the specific location. Until you show up, that's all you get — unless, maybe, you know somebody who knows somebody who heard something about what artists might be playing.
As it turned out, walking into Aviator Nation quickly delivered a surprising reveal for who was on the bill: Erika Wennerstrom merch was sitting on a table. This being a first Sofar experience, I didn't expect any names approaching big, let alone one of the best country-rock/Americana vocalists not just in Austin, but anywhere.
Perhaps even more surprising, Wennerstrom wasn't the closer among the three artists. That turned out to be Jomo and Possum Posse (above), C&W comedians who asked the crowd if they go to many concerts at apparel stores. Amusing as that question was, Aviator Nation proved to be a highly appropriate setting, with the wall behind its stage papered over with classic album covers.
Sofar, the experience, was exactly what it promised. As required, everyone remained seated and listened to the music (you can bring blankets or even low-rider festival chairs to sit on, and as someone who didn't do it this time, I highly recommend it). There was free beer. Wennerstrom and opener Midnight River Choir each played four songs, while Jomo and crew got five.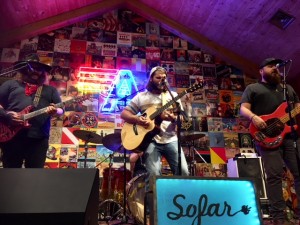 Midnight River Choir solidly toed the twilight zone between Americana rock and traditional country. Wennerstrom, in a rare moment of playing all by herself, sprinkled in some new music along with the likes of "Extraordinary Love," the standout track of last year's solo debut, The Sweet Unknown. As usual, her voice — this time, with only her acoustic guitar sharing the room with it — achieved stunning heights of power and depth.
Just about the entirety of Jomo and the Possum Posse's closing set was pure trad-country comedy, with the likes of "Liquored Me Up," a honky-tonk raveup with references to Jack Bauer and Tony Romo, and "Girl From Acadiana," a fiddle-driven 100-meter dash built around the idea that Louisiana girls' accents are a dealbreaker. When Jomo Edwards bolted out the stage's rear door during one instrumental break, he surprised the crowd — but not me, honestly, because by then it was clear he'd do the silliest thing imaginable — by reentering through the front door of the store and hopping back onstage. Then he sweatily bemoaned the fact that he'd traveled "a big-ass block" on his return.
What this installment of Sofar Sounds displayed to anyone checking it out for the first time is that it's an affordable, pleasant way to kill a couple of hours with some proven, seasoned live music talent, particularly if it's a weeknight when you're not planning to hate yourself the next morning. If we're being honest with ourselves, if you tried to boycott every live-music operation or venue that underpays its artists, you'd be seeing very little live music at all. That said, here's hoping Sofar keeps its word and brings its payouts more in line with the experience its artists deliver.