I don't listen to many albums by septuagenarians. In fact, unless I finally get around to listening to John Prine's album from earlier this year, Paul McCartney's Egypt Station will likely be the only album by someone north of 70 that I listen to all year. But Paul is Paul, he's headlining Friday night of both weekends of Austin City Limits, and this album by this most famous of old men recently opened at No. 1. And while I wait for my turn to see him next weekend, I thought I should see what kind of new music perhaps the world's most beloved 76-year-old is offering these days — even if he's wisely playing barely a dollop of the new stuff on tour.
What I got was an album that's expertly produced and crafted (surprise, surprise), with some sky-high peaks and shovel-testing depths. Overall, it has to be the best of what Paul has left in his tank. Even when exploring many heavily treaded themes of love and philosophy, McCartney still can turn a phrase or create an image that makes things feel a little fresh. But it's at least 15 minutes of overkill, and probably more; bluntly, nearly one hour of new music from 2018 Paul is just too much.
Echoes of the Beatles are everywhere on here. Even the opening 40-plus seconds of ambient train-station noise, "Opening Station," have a Sgt. Pepper's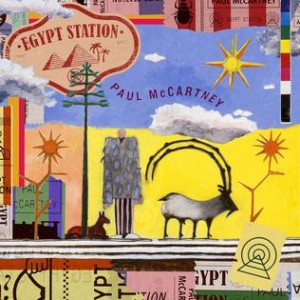 opening feel to them, and this thing closes (finally) on a three-song medley, Abbey Road-style. "Happy With You" has echoes of of a peppier "Blackbird," and later on the album — no joke — you even get birds chirping to open the forgettable, borderline-annoying "Back in Brazil." Sounds like it might even be the same blackbird.
Most of the Beatle-ness influences the record's most positive moments. Several of the ballads wouldn't have been out of place on any Beatles record from the White Album on, and the clean, everything-in-place production shines the most on those tracks. "Hand in Hand" is a quintessential and replayable Paul love ballad, featuring a pretty melody, a flute solo, and a running time of 2:35 that a lot of these songs could've used. "Confidante," driven by acoustic guitar and relatable, poetic reminiscence, ranks as another emotional highlight.
Paul does still try to rock, too, with mixed success. "Come On to Me" proves he can still create agreeable stompers with some car-radio value. On the other hand, "Caesar Rock" is a shaky, near-parody-sounding rocker that reeks of trying too hard. Hopefully, Paul was having a little ironic fun with its otherwise disastrous final lines that sound like discarded notebook drafts in the Black Keys' songwriting trash can: "She got symmetry/Anonymity/She got all the looks/She got all the books/She got matching teeth." And then, the big finish — driving it home by repeating, "She got matching teeth." While hearing that can induce gnashing teeth, "Who Cares," another uptempo offering, ranks somewhere between those, featuring a driving beat and a direct (if trite-seeming) lyric that amounts to, "Know you're valued and forget the haters."
You know how people — including Paul himself — say all the time that the White Album would've been a fantastic single album? Not to compare Egypt Station to the White Album or anything, and I wouldn't use the word "great." But cutting Egypt Station by at least a third could've made for a highly memorable late-career album by a rock legend.
Still — while I'm not rating this album on any sort of old-man curve — Egypt Station proves Paul still has game in the studio. And despite a few chunks of this album that are unmemorable or worse, that's refreshing to see.
Rating: ** 1/2 stars out of 5