Welcome to our first edition of Traffic Jam, where we quickly recap a little of what we've been up to lately — whether it be concerts, albums, events, or general music-related tomfoolery — in bite-sized form.
Highlighted by some top-notch shredding/synthing/sequencing from one of Austin's best young local talents, November featured some worthwhile outings and listening for us…
Jackie Venson @ Radio, 11/27
I knew Jackie Venson (below right) was a great guitar player. But to get a full sense of just how great she is, you have to stand about eight feet away from her and watch her bend her strings nastily and bend her guitar to her will.
Venson not only did that during this 90-minute set, but she did everything else. She programmed beats, played synth, looped and, of course, sang. That impressive one-woman effort gave her Saturday night set at Radio's tiny indoor space as close to a big-venue classic rock feel as it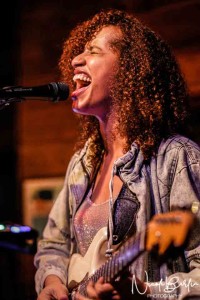 can imaginably get. Selling both a new sampler and a new limited-edition full length CD, The Love Suite, Venson played her usual role as a cheerfully kickass rock/soul/blues goddess, but she also exuded a charming DIY element as well. She had no problem telling an adoring crowd she'd had her beatmaker for only about two weeks, or that she was about to play her next song with an insufficiently long loop. That openness doesn't come across as amateurish if you subsequently kill it.
Her guitar-playing, though, was the defining element. Whether it was bending, flying fingers, crunchy power chords, or double-picking, Venson showed she has all the skills and style. When she backed away from the mic and let her fingers take off, she was nothing short of mesmerizing.
Liz Cooper @ Waterloo Records in-store, 11/9
"I've been trying to save the world one analogy at a time," Nashville's Liz Cooper (top) told her Waterloo audience. Can you guess she's a folk-rocker? Playing without the dusky psychedelic textures of her backing band, the Stampede, Cooper carried this show with her voice and lyrics, both of which are above average for the genre. She and the Stampede aren't game-changers, but there's a talent there for mixing unique, philosophical lyrical phrasing with well-worn themes and cliches. 
The deceptively deep (or is it deceptively simple?) "Sleepyhead" — the opener on the Stampede's latest album, Window Flowers, but the closer in Cooper's Waterloo set — was the highlight for me. Her call to "Wake up sleepyheads/You can sleep when you're dead" might go over as nothing memorable at first, until you realize she's issuing a repeated call to "wake on up, human race." (Light bulb!) … ahhhhhhh…..
Album: The Crack Pipes, Fake Eyelashes
Sometimes, purely derivative works incredibly well if 1) you're 100% invested in and in love with the music you're deriving from, and 2) what you're deriving from is good. In the case of Austin's longtime garage heroes the Crack Pipes and Fake Eyelashes, it's just about every iteration of rock music pre-1975 or so, including soul-rock. And they've paid so much attention to what makes all those classics so good, infusing their own energy and passion into this retro party of a record, their first since 2007. ("Retro party," in this case, refers to the days where you'd still play rock music at a party and expect people would want to dance to it.)
Just about every track on Fake Eyelashes can immediately call to mind a classic-artist reference point — and in this case, that's not a bad thing in the least. "Lil Cheetah" and "Bang Bang Bangs" swim in garage-punk's '60s roots, with the latter especially playing up tasty organ. "(I'm a) Moon Man, Baby" is early '70s Stones/Rod Stewart, with pounding one-note piano; "Sha-Zam" is soulful funk-rock (yes, with organ again) sounding roughly along the lines of Sly and the Family Stone at first, but weaving in a rock-guitar jam. "Giraffe" is the change of pace, a psychedelic crawl that builds to a mildly trippy climax. The closer, "You're the Reflection of the Moon on the Water," has more than a little early, raw MC5 in it.
Sonically — and for the most part, lyrically — there's nothing new here. But sometimes, you just don't need new sonics if you've got great new songs. This is just a varied and great garage rock album, period. Here's hoping the followup isn't scheduled for 2029.
Album rating: 4 1/2 stars out of 5
All photos by Nicole Berlin Photography