As a return to live normalcy, Heartless Bastards at the Mohawk was fantastic in its own way. Saturday at Hotel Vegas was a different animal.
Specifically, a dog. A giant one.
Finally catching A Giant Dog for the first time was as fulfilling as I'd been led to believe in gradually following more and more of the local punk torchbearers over the past five-ish years. It was the main event in a sold-out, three-act bill that collectively generated everything a packed punk show is supposed to generate — and a little more, like one of the more unusual finales for a third-billed act I've ever seen. (More on that later, promise.)
Looking at all the environmental factors, was there any better time for AGD? The Vegas patio, a too-hot, too-humid day giving way to a warm-and-humid night, a crowd of punk fans ready to come apart together for the first time in a year or so. Crime goes up in the summer for a reason, right? People get antsy, frustrated, jonesin' to act the fuck out.
How do you scratch that itch any better than a melodic, ear-crushing and even ear-worming punk juggernaut whose lyrics and tone gleefully revel in the seedier side of … well, pretty much everything? The band whose several-year-old bio isn't lying when it somewhat grandiosely states: "These songs are by, for, and about the losers, freaks, and outcasts. The lonely. The terminally horny. Boozehounds and party animals. No band better speaks to the hearts of slackers, burnouts, rockers, sluts, and creeps everywhere than A Giant Dog."
Guitarist and backing vocalist Andrew Cashen kicked things off with, "A fair warning: We're gonna play our asses off tonight. It's for Mark Jensen," the booker and ABGB co-owner who died earlier in the week. I never met Jensen, but they undoubtedly did him proud.
Singer Sabrina Ellis — one of Austin rock's most prolific creators of bands and musical projects — Cashen and Co. plowed through one pounding, trashily poetic masterpiece after another, the vibe of many of them amply represented by their titles: "Sex & Drugs," "Bendover," "Teenage Orgasm." (Before performing the latter, an early AGD track from 2012, Ellis wryly cracked, "This next song we had retired because of its title. But we're all adults here.") A grounded, kicking acrobat and avid mic-stand wielder, Ellis bleeds grits onstage and puts everything they have into every number.
Since I was right at the front of the stage, eyes stuck on the band early on, I don't know precisely when the moshing started, but I first became aware of it during "Can't Complain." Moshing! Forget the pandemic — I'm not sure of the last time I moshed at all (if anything, I've always been an unwilling participant). But here it was, friendly and nearly irresistible to miss out on, following a year of the opposite of it. From there, it was prevalent nearly to the show's close.
If there's anything remotely close to the "Giant Dog song everybody knows," it's the bellowing "I'll Come Crashing," which found its way into the one-season-and-done Netflix comedy "Girlboss" in 2017. When it came midway through the set, I found myself wondering if there'd be any hint of "I'll Come Crashing" fatigue in the performance, the same way that many bands have to get tired of hearing or talking about that one song that's overwhelmingly more well-known than their others. The answer: Absolutely not. The raised-fist anthem about self-destruction tested the doors of the building the show sat outside of, and Ellis and Cashen led a singalong as if they sought to be heard on Cesar Chavez.
While blasting, moshing and face-melting were the prevailing theme of AGD's approximately 75-minute set, a more measured new song, apparently called "Different Than," was notable and touching. Ellis came out as nonbinary in 2019, and their introduction seemingly made the tie-in between their personal journey and the new song clear: "This song is about what it's like to be marginalized. Othered. Not the status quo." The relative downtempo, guitar clarity and the well-enunciated lyric ("That's what makes me different than him") made it evident that Ellis wanted this personal piece not only enjoyed, but heard. A Giant Dog is already multidimensional as it is, and there's a strong hint of more intriguing dimensions to come.
Pleasure Venom
Dark and fiercely political, Pleasure Venom vacillates on record between delicious, barely controlled breakneck chaos and bouts of succumbing to the allure of out-and-out noise. As a live act on Saturday,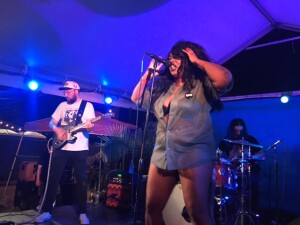 they were a fast-churning, supercharged delight, delivering the catharsis the night called for.
Frontwoman Audrey Campbell simply cuts a captivating and spiritually imposing figure, whether barking and yowling lyrics with righteous anger, going to her knees and burying her head into the monitor as she did during "Seize," or literally feeling herself as she gets lost in the passion and anger of her sulfuric social commentary. Guitarist Chase Dungan, bassist Joel Coronado and drummer Thomas Valles (with Campbell, the band's other original member) are flush with the instrumental skill to keep up with her, putting down a satisfying hard-rock-leaning roar behind "Deth" and tearing through "Hive," one of the band's best songs to date. Also, on a night full of solid wardrobe choices, hard to argue with Coronado and Dungan's shirts: An "Unsolved Mysteries" fingerprint tee and a Steely Dan tee, respectively. Was the latter worn ironically? Were both? Doesn't matter; A+ on those.
Dregs
Since I mentioned that unusually wild grand finale for an opener of an opener, we might as well start there on Dregs and work backward. Frontwoman Evan Jones produced a pair of red scissors, guitarist Mark Nolan went to the stage floor while continuing to play, and Jones proceeded to laboriously slice his ponytail off. It took some time, either because of dull scissors, thick locks, or both. Hard to say if this was originally meant to be a straight-faced "rock 'n' roll moment" along the lines of giving something of yourself (blood, bashed-in instruments) for the cause. But at any rate, Jones dissolved into laughter at her failure to cut the hair off in an efficient manner. Once she finally had Nolan's severed ponytail in hand, she put it on top of her own head toward the end of finale "Year of the Dog."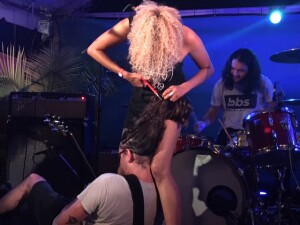 Thus capped an impressive set that set the tone for the night. Dregs are generally accessible, classic accelerator punk, in the mold of something like Stiff Little Fingers or the Gits on Vivarin. Like Ellis and Campbell, Jones pushes the red with her onstage intensity, and brandished a "Fuck White Supremacy" T-shirt for good visual measure. Songs like "King Kong," "High Anxiety" and the aforementioned "Year of the Dog" are the kind of stampedes to hell that never get old for punk purists. And for Political Wardrobe Statement of the Night, Jones topped her own anti-Nazi shirt when she turned her back to the audience and shimmied out of her shorts. They fell to the stage to reveal underwear with "BLM" painted on the butt in thick letters.
"Thank god live music is back" might get to be too trite of a general sentiment before too long. Hell, maybe I already spent my currency on it in my Heartless Bastards writeup. But it's worth getting a little more specific for this round: Thank god live punk is back. All of Saturday's sets were an electrifying return to a particular kind of happiness, achieved through the channel of through three talented bands' variations on disaffection and rage.