In this "Take what you can get" year, where that phrase applies to just about anything related to fun or general fulfillment, Love & Light gave us something. A sweltering, tasty, festive something that — however temporarily — scratched an itch. If Love & Light just showed us the proverbial "normal" of live music until a COVID-19 vaccine emerges, then it's a normal worth indulging in.
The local music artist/fan/industry collective's Love & Lightstream drive-in concert (and livestream) in Cedar Park approximated a big-time local music showcase as best as one can in 2020 last weekend, basically filling the festival void with a rockin', diverse, shadeless evening picnic. Socially distanced cars, divided by sticks and tape markers, dotted an open field in front of a legit stage. Concert goers brought their own chairs and refreshments and stayed in and outside their vehicles, leaving their areas only to use the restroom. Horn-honking took its inevitable place alongside traditional cheering. And the performers, let me tell you, unanimously loved those horns.
Not that Love & Lightstream is on a major-festival plane, or even pretended to be — this was a benefit for Black Fret and the Health Alliance for Austin Musicians, after all, not a multi-stage Coachellian cash cow. But being out at Cedar Park's Haute Spot Event Venue on Friday and Saturday, the second and closing nights of the three-night festival, Austin City Limits actually came to mind. Given the scale of this event, that can't be anything but a compliment. Call it ACL Very, Very, Verrrrry Lite. After almost six months away from any kind of giant speaker, it did the trick.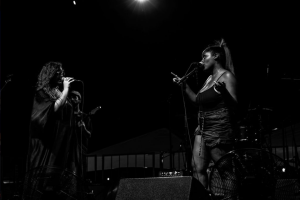 The sunshine and cloudless, unmitigated heat had something to do with that ACL association, sure … but again, the stage was major league. Lighting and sound were both more than good enough. Cars were adequately spaced (capacity was capped at 150 cars each night, but my eyeball estimate told me that no more than about 50 were out each night). As a music lover, it just felt enough like something you love to be something you enjoy.
And perhaps most key to making Love & Lightstream feel like a real festival, performers ran the gamut of genre, age/experience, and local fame. Jackie Venson was fairly spectacular on Friday night, looking like a fully formed, windblown rock star as she mixed her longtime set standards with selections from forthcoming album Vintage Machine. Those newer cuts continue to validate her direction into a more electronic-laden path, as she showed how her exemplary guitar work can coexist with deft programming. Young brother-and-sister hip-hop duo the Bishops added effective trappy jams to Friday's mix, bolstered especially by Troy's dexterous rapping and sister Cara's smooth R&B hooks.
Sir Woman, reigning Best New Band at last March's Austin Music Awards (the last true live musical event I attended), finished out Friday with an hour's worth of chill funk, soul and a little bit of danceability. (Somewhat humorously, Sir Woman is officially just Kelsey Wilson of Wild Child fame, even though in practice they're no less than a nine-piece live act, with three horns and the whole bit.)
Saturday continued with similar eclecticism. Think No Think's sometimes psych-ish, distortion-drenched alt-rock, led by vocalist/guitarist John Howey, gives you the feel of Wolfmother lead singer Andrew Stockdale (a clear Robert Plant disciple) fronting a grunge band. After Venson, the feel-good versatility of Swimming With Bears (top photo) made for the second-best performance I saw. They shifted between rock, pop and even reggae influences, pitching a big tent for more anthem-ish songs like "Shiver and Crawl" and charging rocker "Don't Think About It."
While the use of the word "generic" would usually be a nasty epithet in music criticism, it's not going to be in this case, so get past that for a second and go with me here: After two sweaty evenings, I would characterize Love & Lightstream as the generic-drug version of a full-blown festival. If you've got the nagging inflammation in your soul known as nolivemusicitis, would you take the generic remedy if it's available to you, or would you ride it out because your insurance won't pick up whatever price Big Pharma's greedy ass is forcing on the market? (Do me a favor and take Swimming With Bears' advice on this analogy, which isn't the greatest of my career: Don't think about it.) Take the generic, I say, and scratch that itch. Love & Lightstream did that, and suggested that other drive-in shows can do the same. Maybe there's a real bridge available between 2020's doldrums and the return to live-music normalcy that seems a long, long swim away.
All photos by Nicole Berlin Photography