It's March 22, 2020 as I finish this latest entry in this disease-free (as far as science knows) digital space. Seems important to note the date, because COVID-19 news is so fluid that even if you read this in a few days, it may seem like a relic from two weeks ago. Such can happen when a pandemic turns itself loose in a world where we now move on from things like "Laurel/Yanni" after a couple weeks.
As it is with the majority of likely readers here, I'm in self-quarantine — working from home, entertaining myself exclusively at home, essentially hearing music only from a computer, my turntable, or the overhead speakers during apprehensive but necessary Target runs. Strangely, even while taking in the general good deeds and goodwill in Austin that the COVID crisis has inspired— both general and music-specific — I'm finding there's increasingly little for me to say about it all at this specific time. Increasingly little related to music, that is. Except for this:
Keep donating, and keep buying.
It's seemingly counterintuitive that I felt less at a loss for words when corona's effect on Austin was in its relative infancy just a couple of weeks ago — the Austin Music Industry Awards going on as scheduled, followed by the jarring cancellation of South by Southwest. Even 11 days ago, attending the Austin Music Awards (more on that experience in Act II of this entry), I just found the words came easier.
Now, after (at this hour, per CNN) at least 30,000 confirmed U.S. cases and 384 deaths, live music seems simultaneously of both enormous significance and insignificance. Even as the head-up, heart-out spirit of the community and local artists has been ignited — expressed through specially organized livestreams and creative alternatives to making money playing live — there's a certain overwhelmed feeling to the whole situation. Without even infecting you, corona just beats you down.
On Friday night, I watched a little of two dueling virtual concerts: the Black Fret Love and Lightstream live event, for which my wife helped out with social media; and the ACL Stands With Austin webcast, which featured pre-recorded home performances. Both were heartening displays — a needed link between Austin viewers and the city's artists (with some out-of-towners pitching in to perform on the latter). There will undoubtedly be more events like those, and more opportunities to support the people who ensure that the show, in some parts-stripped form, goes on.
Everyone understands how serious this pandemic is for musicians not in Cardi B's (or even Spoon's) tax bracket, and everyone who's supporting them is earning points toward entry in the Good Place. And all I have to say to whoever's reading me on this dreary, quarantined Sunday in Austin is: Keep doing it, and more. If you haven't started, start now. It's an easy way out of COVID-news paralysis: that feeling that there's nothing you can say and nothing else you can do.
Buy local artists' vinyl. Buy their digital. Give them Spotify plays. Watch their livestreams (Jackie Venson is shredding twice daily) and tip them on Venmo. If you have the scratch for it, take up artists like San Antonio's supremely talented Nina Diaz on their creative offer to cover any song for you at a negotiated price.
Lives come first. After you take precautions to save lives (I'm presuming you already are), turn your attention to the effort to stop COVID's many aftershocks, and keep local music on that list. Maybe, just maybe, our music scene will survive almost entirely intact.
Recap: The Austin Music Awards
Just two days before state and national emergency declarations, and three days before Austin banned gatherings of 250 or more (which was just the start), was it ill-advised to hold the Austin Music Awards as scheduled?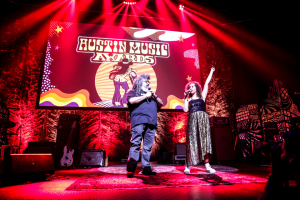 Yeah, probably. Did I go? Yep, sure did. Had a fun time sharing a floor with a few hundred others. And now, I'll be willingly done sharing floors with hundreds for awhile, thanks.
By now, it may even be hard to remember where we, as a nation, were on the night of March 11. As stated before, coronavirus is perhaps taking home the prize for Most Fluid National Situation in Our Lifetimes, and things are changing so fast it's hard to remember what actions were being taken when. In case all this hysteria has scrambled your internal timeline, it was abundantly clear by then that congregation events like the AMAs were discouraged, or even frowned upon.
The plug on South by Southwest's ventilator had been sitting on the floor for five days. That afternoon, the NCAA announced it would play its basketball tournaments in empty venues, and the Houston Livestock Show & Rodeo was also cancelled. Later that night — around the time we were honoring Austin's best at the Moody Theater —  Utah Jazz center Rudy Gobert's positive test for the virus forced the NBA to suspend its season. The next day, the NCAA gave up on its empty-venue dream and cancelled the tourneys, effectively ensuring the postponement or cancellation of any sport anyone cares to gather en masse for. Oh, and also that Wednesday night, as the AMAs proceeded, some orange guy gave a speech that confused people and wasn't well-received.
So if the awards were going to go on with the COVID cloud hanging over them, of course there was going be ample acknowledgment of that cloud, and relatively prudent acquiescing to the storm threat it brought. AMA producer Louis Black gave a typically rousing show-goes-on, we-go-on address at the top. Co-hosts Venson and Chris Cubas, along with presenters and winners, opted for elbow bumps over handshakes and hugs whenever they remembered it.
With SXSW 2020's demise on everyone's mind, Venson, the ever-rising local star and last year's Best Guitarist winner, urged the crowd to lend aid to all affected musicians and service workers: "Donate. Help us recover from what just happened. Help, please." On the lighter side, the moment she came onstage in a full yellow haz-mat suit and gas mask was one of the night's best laughs.
She and Cubas, one of the city's most acclaimed active comedians, made a fun and charming hosting pair, if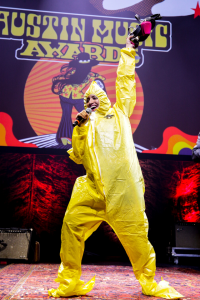 seeming at times charmingly unseasoned at this kind of gig. Maybe the most amusing of a few moments that stretched the AMAs' trademark ragtag feel to its limit: Cubas looking for his next line as Best New Act winners Sir Woman set up to perform at his right. "Need that teleprompter. Your next winner … are you playing?" Cubas said, before finally realizing he was supposed to be headed offstage at that moment.
The show moved at relative warp speed, which was especially welcome because it started about 15 minutes late. Many winners performed, and even with most performers getting a two-song mini-set, the show didn't lose its free-flowing steam.
Gary Clark, Jr., not present at the ceremony, was an unsurprising triple winner for Best Guitarist, Song of the Year for the outstanding track "This Land" and Album of the Year for the record of the same name. Even without Clark, high-energy instrumental and vocal heat was plentiful in the performances. My favorite came from Best Metal winners The Well (top photo), whose pair of vintage Black Sabbath-sounding numbers was testament to how new metal doesn't have to be nu-metal, and can still be melodic, organic, and sludge free.
Runners-up for best performances: Grupo Fantasma, which celebrated both its Best Latin win and its 20th year together with a danceable showcase of the professionalism that's kept the band going for 20 years; Sir Woman, the new R&B/soul project of Wild Child frontwoman Kelsey Wilson; and Blackillac, whose hard-charging "Juice It Up," with the help of Walker Lukens' backing band, commemorated the pair's win for Best Hip-Hop.
There was also a good share of national star power to make up for Clark's absence. Black Pumas were there to pick up their Band of the Year and Best R&B awards for their nation-conquering 2019; Spoon accepted their award for Best Rock (was "No Bullets Spent," their only new song released in 2019, that good? I don't think so, but anyway, Spoon is Austin rock royalty), and Mike Judge showed up as a presenter.
Even with the cloud creating a watch-your-body-and-your-breathing apprehension, my second AMA experience was nearly as fun as my first in 2019. As for me, I've got three days until my 14 since attending the AMAs are up, and I'm feeling nice and asymptomatic. For a last congregating hurrah, I'll certainly take it, and be glad we're not doing anything like it again for awhile.
All photos by Nicole Berlin Photography