One minute short of the magic 2 a.m. end time, Ringo Deathstarr was done with North America for the rest of the month.
After a banter-heavy, loose-bordering-on-ragtag 90-minute Monday night set at Hotel Vegas on Feb. 11, Austin's reigning shoegaze heavyweight champs could finally set their sights on their next move. None of the demands for "One more song!" — in this case, coming from about three of the 20-ish people left at closing time — were going to squeeze more music out of them. Instead, they invited everyone to follow them around the globe instead.
"Come to Japan!" bassist/vocalist Alex Gehring urged the "one more song" dudes.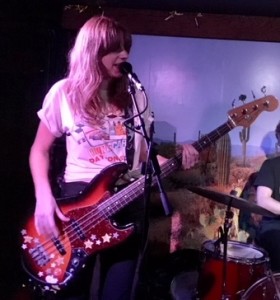 Added guitarist/vocalist Elliott Frazier, "It's only a little bit of money."
The Monday night (technically Tuesday morning) show was billed as a warm-up before Frazier, Gehring and drummer Daniel Coborn headed out for a three-city Japanese tour that begins Feb. 22. "Warm-up" was a somewhat appropriate word, as Deathstarr's set — which started 30 minutes later than scheduled— had a punchy, just-messing-around-in-the-garage kind of feel, driven mostly by Frazier's wide-ranging tangents into stories and one-off witticisms.
But RDS played sharply and loudly, filling one of Austin's most claustrophobic venues with power-drill riffs and dream-rock gems. They went through the entirety of their compilation album Sparkler, for which they're celebrating the 10th anniversary of its original release in Japan, before hitting some highlights from later discs Mauve (2012), Pure Mood (2015) and Colour Trip (2011). That stretch highlighted RDS' range at its best: Gehring's airy vocal lifting "Rip," Frazier (pictured above with Coborn) unleashing a rapid-fire frenzy on "Slack" (both off Mauve), and the two of them meshing as co-leads on the ethereal "So High" (Colour Trip).
Listening to RDS, you could assume they might be a band that takes themselves too seriously. Judging by Monday, that's not the case at all. Maintaining a loose and unburdened stage presence, Frazier tossed in asides on the difficulties of fatherhood and visiting the Big Bopper's grave (apparently an inspiration for their song "Big Bopper"), and even briefly heeded a joking audience request to play "Wonderwall in the style of Michael Jackson!" And, as he showed near the top of the set, he doesn't seem to get defensive when people point out Ringo Deathstarr's most obvious influences, recalling how he heard at the beginning of RDS' career, "This fuckin' band sounds like the Jesus and Mary Chain, man."
"But you know what?" Frazier added. "They were right."