If somebody asks you to form an image of the typical Austin musician, that'd probably be an impossible task. There's so much music and so much musical diversity within these city limits … (see what I did there? I know. Don't worry — I'm not overly proud of it) … that Austin isn't really defined by one genre or one type of musician.
But if you had to do it — to pick a prototype to represent the most common image/sound package of someone holding the stage at an ATX bar — you just might come up with someone like the emerging Julian Acosta. Shaggy-haired, sandpaper-voiced, playing a roughly equal mixture of Americana and rootsy rock — yeah, that's starting to sound roughly about right, isn't it? Did I mention he rocks a porkpie hat, too?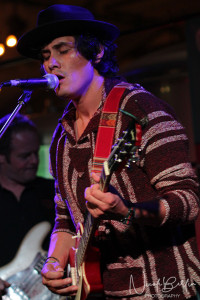 So in that sense, maybe Acosta's somewhat typical. But in Austin, typical is hardly a bad thing, and Acosta showed during his set Tuesday night at the ABGB for SXSW HAAM Benefit Day that he's several cuts above any random gritty rock performer you see around town.
The Mexican-born Acosta grabbed local attention in late 2014 with the video for his song "This Town," which hits and captures so much of the city that it almost reminded me of a musical update to Richard Linklater's "Slacker." His passion for Austin is genuine and unveiled, which makes him easy to like. Onstage on Tuesday night — my first time seeing him — so was his passion for banging out one soulful, rootsy stomper after another, with a voice that exudes plenty of delicious gravel without going overboard.
Acosta's backing band ably gave him a punchy bed to sit atop for about 40 minutes of edgy numbers like "Cinnamon," his current single and the set's closer. Maybe his lyrics aren't always perfect; "She's a freedom fighter/She's got a 50-cent butane lighter" is a line fit for some awful country song. But that's a nitpick for an enjoyable local rocker who should have his best days ahead of him.
A toast Acosta offered his audience in the middle of Tuesday night's set — "To good friends, to good times, to f***in' holding down the fort, and no-sh** vibes, man" — might seem cliched with a touch of nonsensical. (Was the ABGB the fort in question that needed holding down, or what?) But the "no-sh** vibes" part — which Acosta invoked again shortly before his set wrapped up — clearly is central to his musical presence and defines his appeal, too. His music, and his love affair with making and performing it, are palpably real, and that helps make him a strong live performer.
She Sir
HAAM's emcee introduced She Sir as an "up-and-coming" band. Maybe that should be "up-and-long-time-coming," considering their recording history dates to 2006. At any rate, She Sir was an impressive touch of something a little different on Tuesday. I wouldn't go so far as to call them outright originals; who really is anymore? But churning, slightly shoegaze-y indie-rock with smooth vocals and a guest tenor sax man playing throughout the set … that isn't something you come across every day. She Sir makes it work live.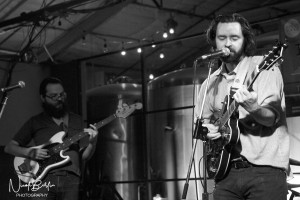 Lead guitarist Russell Karloff is an earnest but tender vocalist, adding a light and passionate touch as he sings with eyes usually closed, but he never overwhelmed the instrumental component of the band's midtempo chuggers. And being a sax player in a past life, I couldn't help but be drawn to the contributions of that guest musician, Oscar Ornelas, who added both jazz and (especially) '70s rock textures. His contributions helped carve out a distinction between She Sir and anything I've seen live lately. Ornelas' funky solo atop the band's wall of indie noise on the closing song, "Dark Glass Tomb," left things on a high note. Ultimately, She Sir successfully made me interested in checking out a chunk of their decade-plus body of recording activity, including their new album, Rival Island.