The beauty of Alex Lahey's music is twofold. First, there's how personal and direct it is without lapsing into melodrama. You don't get more direct, first-person-involved and metaphor-free than titles like "I Haven't Been Taking Care of Myself," "I Don't Get Invited to Parties Anymore" and "Am I Doing It Right?" But those laments and insecurities come across as one person navigating her life and trying to, well, do it right without losing perspective. There's no grating sense that solving her problems is the be-all, end-all of a just world. It's a balance that many a songwriter has failed to strike, but the 27-year-old Australian does it perfectly, never despairing. Even as she struggles to figure things out, there's a sense of good-natured hope.
Secondly, Lahey (above) just plain rocks. Her polished garage sound, full of both driving guitar power and summer-y melody, carries an immediate accessibility and likability that's evident in what I described above. Both those components made Lahey's show at Antone's on Friday night an overwhelming winner, as she led a backing quartet in an exuberant charge through about an hour of her best songs to date.
The charming regular-girl vibe Lahey emits lends credibility to her soul-searching on record, and it does the same for her stage presence. She kicked off with a trio of songs — "I Don't Get Invited to Parties Anymore," "Am I Doing It Right?" and "Awkward Exchange" — that would serve as a perfect introduction to anyone listening to her for the first time. All three are melodic rockers that collectively betray both Lahey's uncertainties and the assertiveness she still can wield ("I'm not really interested in being your friend/After all, you're the one who started the end/Who knew this turnaround would be so quick?/But I figured it out, you're just a bit of a dick").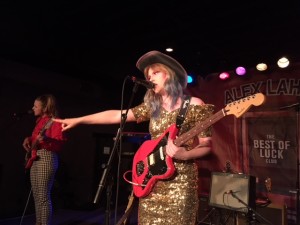 From there, Antone's got every side of Lahey — every notch on her musical spectrum, from the tenderness of "I Want to Live With You" (again, who needs to waste time with metaphors?) to the corrosive, nearly pure punk of standout "Misery Guts," to her alto sax solo on "Don't Be So Hard on Yourself." I'd undoubtedly be in the minority on this, but the set Lahey and her band offered was so good that I would've still been satisfied without hearing her best-known song, "Every Day's the Weekend." But naturally, she didn't leave that one on the table, saving it for next-to-last.
Musically, there was never a dull moment, or a moment that obviously prompted disengagement. And in between songs … as far as winning over the locals, it doesn't get much cuter than what Lahey told the crowd she was excited about doing the next day. Sure, your average out-of-town performer might throw in a reference to going to Franklin Barbecue, or hanging out on Dirty 6th, or something typical like that. But how many would excitedly announce to the crowd their pending outing to Buc-ee's? For an Aussie, Lahey gets Texas. Or she's a really fast learner.
Kingsbury
It was opening performer Kingsbury's birthday, prompting a cake and singalong from her backing duo and another happy-birthday singalong during Alex's set. Other than being equally high-energy, Kingsbury (first name: Caroline) seemed an unusual opener for an artist like Lahey. But she celebrated being 58 years old (not really — that was her joke) with an impressive, forcefully delivered 30-plus-minute set.
While Lahey is all girl-next-door-hangin'-in-the-garage, Kingsbury — clad in glittery gold, colorful makeup and a cowboy hat — represented something different. Bolstered by a bed of programming, her sound is more of the arena-filling pop powerhouse variety. To me, at various times Friday she recalled several different stars on the pop/indie-pop spectrum, ranging from Haim to Florence Welch to even "The Best"-era Tina Turner. Powerful and confrontational in her delivery and phrasing, Kingsbury sometimes sounded on the verge of exploding, and her frequent use of abrupt pointing confirmed — contrary to what middle-finger advocates may argue — that the index finger is indeed the hand's most powerful finger. Songs like "U Take It Back" mark the Los Angeles-based Kingsbury as someone to watch.
Watch the videos for Lahey's "Every Day's the Weekend" and Kingsbury's "All Gone" below: