Last week, I sporadically watched the Academy Awards. You know: In for the first 20 minutes, off to Netflix for "Schitt's Creek" and other higher-quality TV, pop back in for a few minutes, back to Netflix, repeat, and repeat again. Eventually, against my better entertainment judgment, I let the last 35-40 minutes of Hollywood's Biggest Night unfold in front of me.
There was a time for a few years there when I watched the Oscars cover to cover, before I realized doing that is somewhat insane and even a touch masochistic. Despite the annual efforts to shorten the show (which apparently worked a bit this year), it's an overly glitzy, slow-moving, canned bore of a program, and I never see more than a few of the films up for the big prizes anyway. So although I've got an interest in finding out who wins those, I now make it a point not to watch the whole thing, or anything close to it.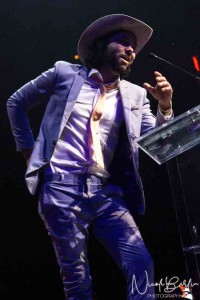 Three days after reminding myself why I made that life choice, I went to the Austin Music Awards for the first time at the Moody Theater. It reminded me that awards shows don't have to be barely tolerable crapfests. And above all, it was a celebration of Austin's music and its music community that felt unmistakably Austin — informal, lighthearted, but still full of respect and love for the town's best artists.
The AMAs moved ahead of schedule — ending around 11:15, when the closing tribute to the late MC Overlord was originally scheduled to begin. Announcing only the winners in each category, not the losing nominees, helps a lot. And if only Hollywood's most pretentious and verbose winners could be as concise as the AMA winners, none of whom took anywhere near long enough to be "played off." Well, except Musician of the Year winner Shakey Graves, but he admittedly had the green light to ramble, knowing the show was blowing away its pace. Bob Schneider, the night's biggest winner — he took home five awards, including Best Male Vocalist, Best Rock and Best Songwriter — could've used that as an excuse to make a speech five times longer than everyone else. He didn't.
For other winners, the acceptance speeches were heartfelt expressions of inspiration, reflection and commitment. Jackie Venson, just the third woman in the 37-year history of the AMAs to win Best Guitarist, vowed to "hold the door open" for other women in the industry. "We're coming up on a month of my eighth anniversary of my picking up the guitar," the dazzling Venson said, "so I understand how crazy this is." Gina Chavez, winner of the Best Female Vocalist and Best Latin prizes, made what seemed like a staggering admission for a heavily acclaimed local singer: That it's "only been in the last month that I've started to realize I am worthy of love. I am worthy of being here." Best Punk winners Sailor Poon kept it short but outstanding, with singer Billie Buck quoting "a pioneer of the genre, Avril Lavigne" to commemorate the award: "You know, it's a lot more punk to tell people you're not punk. Whatever."
Were there warts to the show? Sure — and unfortunately, the performances provided some of those. For example, how could top-billed descendant of rock royalty
Jakob Dylan call it a night after just one number? It wasn't even one of his, mind you, but part of the tribute to Alejandro Escovedo, winner of the Townes Van Zandt Songwriting Award. The sound was an issue during the final third or so of the night, with hosts Laurie Gallardo and Rick McNulty battling intermittent microphone trouble and one taped video message from Iggy Pop that, most unfortunately, went completely unheard.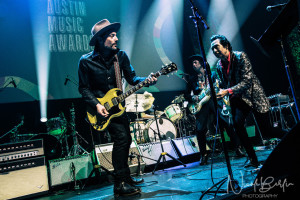 But by and large, the performances were a positive. Suzanne Vega popped in to perform two songs, including — naturally — "Tom's Diner." Folk rock is a genre where aging often won't mean the end of your live chops, and in fact might even enhance them. The soothing intrigue in Vega's trademark deadpan delivery remains intact, and she sounded great. The locals representing Austin's funk and soul scene did, too. The fast-rising Black Pumas were impressive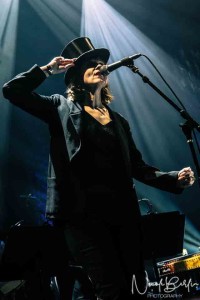 in performing two songs, including Song of the Year winner "Black Moon Rising." Tomar Murphy did his funky thing, both with mouth and moves, and the Peterson Brothers also impressed. Abhi the Nomad showed why he's one of Austin's shining young lights of hip-hop, charging through an energetic one-song performance.
The honors to Escovedo and the Continental Club's Dianne Warren — winner of the Margaret Moser Women in Music Award — carried the gravitas of celebrating two of Austin music's most looming, long-running legends, with appropriate introductory tributes for each. Escovedo had Spoon's Britt Daniel deliver his introduction, in which Daniel recalled seeing Escovedo for the first time at a 1990 Hoot Night — the Austin tradition in which musicians gather to cover other people's songs. That Hoot Night was meant to honor Lou Reed, Daniel recalled, but his first impression of Escovedo was his refusal to stick to that intention: "Who was this guy," Daniel remembered, "who had the guts to play his own song at a Hoot Night?" Continental Club owner Steve Wertheimer introduced Warren touchingly as "the woman with the best bullshit meter in all of Austin." And Warren herself delivered a no-bullshit assessment of where the city stands: "Naysayers be damned, Austin is still the Live Music Capital of the World."
Ultimately, my first AMAs — and my first trip to the Austin Music Industry Awards two Sundays before — both backed up Warren's declaration and redeemed the concept of an awards show. Maybe the Oscars are this fun if you're there, but the bald-faced artifice and the buttoned-down glitz wouldn't go away. The AMAs don't let that stuff in the door, and thank goodness for that.
If you're curious about all the categories and their order of finish, the Austin Chronicle has the full list of winners and runners-up here.
All photos by Nicole Berlin Photography