If this is musical evolution, frankly, Arctic Monkeys could stand to stunt their just growth a bit.
Through five albums – particularly on their previous two – the Monkeys have allowed their sound to expand without abandoning the root of what excited people about them back in the mid-2000s. At their heart, they've always been a rock band – a glorious, energy-packed, detail-oriented rock band the likes of which the U.K. now generally produces more frequently than any other country. From their first release onward, they seemed a natural heir to the throne the Libertines couldn't hold because they simply didn't have their crap together. The Monkeys have avoided the drug problems and messy interpersonal drama that sunk those guys and found new places to take their music. Even while becoming more tempered and impressively expanding their facility with balladry (both 2013's A.M. and 2011's Suck It and See), they never forgot to hit you hard.
Until now, that is. Only in a broad sense is Tranquility Base Hotel & Casino a rock album. Sure, there are some acid-y guitar flourishes (buried) in the mix, a few forceful beats, and a few flashing moments of musical inspiration. But mostly, the album's title tells the tale. This is a Vegas lounge record for an indie rock audience — a strange, seemingly conceptual, intriguingly lyricized album that would be much more replayable and memorable if it didn't insist on being so damn slow. Yes, virtually the whole time.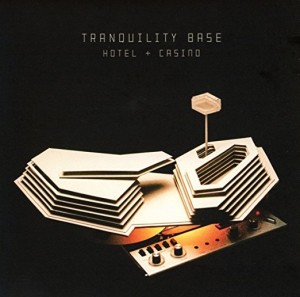 The band released no singles ahead of Tranquility Base Hotel dropping; whether this was a factor or not, it's pretty clear none of these songs would get a reasonable listener truly excited for an impending release. Opening track "Star Treatment" sets the tone more thoroughly than you want it to. When the album's opening line is "I just wanted to be one of the Strokes," little do you know you'll spend the whole album waiting for some reminder – any, really – of those days when the young Monkeys aimed to send a pub-rock jolt through your veins. That reminder never comes. "Star Treatment" slinks along at that lounge pace from which the record just about never deviates, with the plodding piano that often takes center stage throughout, and Alex Turner's voice drenched in the light reverb you associate with dark, smoky clubs of days past. In case there's any confusion about what he's going for, there's also this: "Back down to earth with a lounge singer shimmer/ Elevator down to my make-believe residency/ From the honeymoon suite/ Two shows a day, four nights a week/ Easy money." And there's something about the "Martini Police" in there, too.
Unfortunately, a sameness sets in that makes most of these songs undistinguishable in the mind. Even though somewhat interesting guitar, piano, and organ lines weave in and out, these tracks get memorized as one big blob of slow. Part of the issue here is that Turner, while delivering quirky phrases and verbal imagery at every turn, doesn't seem to have put much effort into delivering memorable melodies. Frankly, Tranquility Base Hotel & Casino largely reeks of a poetry project disguised as an album; these songs are seemingly made more for obsessive blogger and fan deep-dives than for any sort of marriage to melody and backing.
At the same time, those words are much of the good news, a big part of the reason this weird record doesn't come close to being total trash. Turner has rarely mailed in a lyric in his life, and – while you can argue how much thought lyrical surrealism really takes — he certainly doesn't do that here. You'll find yourself marveling, applying your own meaning, or rubbing your chin to just about any verse, couplet, or chorus. Just for a couple of examples: There's the album's title track, which essentially establishes this whole thing is indeed taking place on an actual place called Tranquility Base Hotel & Casino, and includes, "Jesus in the day spa, filling out the information form/ Mama got her hair done, just popping out to sing a protest song/ I've been on a bender back to that prophetic esplanade/ Where I ponder all the questions but just manage to miss the mark."
There's "Four Out of Five," the album's lightly stomping, harmony-laden standout, which makes random references to things like the "Old Grey Whistle Test" and invites you to stay at the hotel: "Take it easy for a little while/ Come and stay with us, it's such an easy flight/ Cute new places keep on popping up/ Since the exodus, it's all getting gentrified." "Golden Trunks" makes one here-and-gone reference to "the leader of the free world" wearing said golden trunks in a wrestling ring, and also gets deep with, "Last night when my psyche's subcommittee sang to me in its scary voice/ You slowly dropped your eyelids/ When true love takes a grip, it leaves you without a choice."
Ultimately, one or two songs of this ilk could've served as a great change of pace on a Monkeys album where they're more evenly blending their nasty rock roots with their expanding musical vocabulary. And Tranquility Base Hotel & Casino does grow on you following the first listen. After the initial (digital) spin, I was ready to give this "two out of five" and be a smartass about doing so. It's better than that. But for someone like me, who was invigorated from the first listen of "I Bet You Look Good on the Dance Floor" 12 years ago, got hooked on the summery musicality of "A Certain Romance," and sees "Fluorescent Adolescent" as a rock all-timer, this is a bit of a letdown. If the Monkeys' set at Austin City Limits this fall is loaded with Tranquility Base songs … well, that sounds like a bit of a letdown, because I'm not sure I won't be forever done with this album in a month.
Rating: 3 stars out of 5
Best track: "Four Out of Five"