If you've followed Black Pumas' rapid local ascent and have heard "Black Moon Rising," there won't be a whole lot to surprise you on the duo's debut album. I didn't get surprised by a whole lot, save for maybe one thing: Just how good it is at its best while staying mostly within the retro-soul lines "Black Moon Rising" implies.
Austin music veteran and former Grupo Fantasma member Adrian Quesada met transplanted West Coast busker Eric Burton in 2017, Black Pumas started a residency at C-Boys Heart & Soul in early 2018, and just like that, they were A Thing locally, with a snowball of big crowds and lauding press coverage. With little or nothing out there studio-wise during 2018 except "Black Moon Rising," the Pumas took home Austin Music Awards last February for Best New Austin Band and Song of the Year. This first full-length is a good bet to be at least a finalist for Album of the Year next year; at the very least, it will hold serve for anyone who got hooked by "Black Moon Rising's" slinky Vietnam War-era soul groove.
There are essentially two star components to Black Pumas, the record: Burton's voice and
Quesada's often-perfect production. The peppering horns, psych-ish keyboards and Quesada's reverbed guitar on "Fire" help push the song to standout status, with Burton powerfully hitting a sweet spot somewhere between Sam Cooke and Marvin Gaye (plus a reference in the lyrics to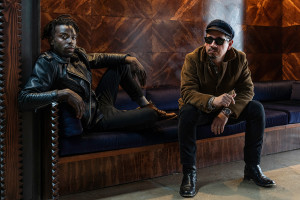 "smooth sailing" can't help but bring another talented contemporary Texan, Leon Bridges, to mind). The same attributes, plus some perfect harmony vocals, similarly elevate "Stay Gold." "Old Man" is another winner gently rounding out the album's strong midsection; even as the lyrics mix in a few cliches and platitudes, Burton's vocal range is on full, impressive display.
And it's always nice to see an album close with something that alludes to future variety and/or growth. In this case, "Sweet Conversations," a summery acoustic guitar-underpinned ballad, may be the album's only real stylistic curveball, but it's a good one, where the attention to production detail — subtle instrumental and percussion adornments galore — will hook you as much as the dreamily inviting melody. And the somewhat mystical lyric is one of my favorites on the album as well: "If I'm lost in the darkness with my soul on the pavement/Won't you speak with me spirit/Babe we can't let this love run dry."
Listening to Black Pumas after all the hype the band accumulated in such a short period of time could've set me up for a letdown. The only taste of their live experience I've gotten were the two songs they performed at the AMAs, and I thought "Black Moon Rising" (which kicks off this album) was a fine track, but not revelatory. For me, it serves here as a high-quality appetizer for a strong debut and a number of even greater triumphs that fully give a sense of what Burton and Quesada have going here. While there are moments on Black Pumas that fall well short of its high points, there are no truly weak moments. And with the complementary talents Burton and Quesada possess, they have what it takes to build on this debut and give us more and better.
Rating: ***1/2 stars out of 5
Watch the video for "Black Moon Rising" here: