(Photos by Nicole Berlin Photography)
Supergroups are historically a hit-or-miss proposition, if we're being honest. The indie ones, generally featuring musicians who've had more modest career success, tend to turn out better than the ones where massive, multi-millionaire egos struggle to coalesce. To name a couple really good case studies of the supergroup that are probably fading from everyone's indie memory, give me Divine Fits or Wild Flag over … uh, how about Damn Yankees … any day.
But really, you never know what'll come out of the oven when you throw in several musicians whose bonding base is previous musical success. When it does turn out well, you often get a sense that it's a glorified jam session with bells and whistles — in other words, they're having fun. Lots of it.
KVN (as in James, Hart, or Bacon), a curiously named three-headed Austin pop monster consisting of Dossey, Lady Heartwing and Primo the Alien, appears to be fitting that bill. Likely because of nasty, icy weather last Thursday, the third night of their monthlong indoor residency at Mohawk only drew a few dozen people at most. But the brand-new trio (top photo) had a constantly smiling, synth-tacular time together, mixing their nascent catalogue with some covers, and their energy rubbed off on the crowd.
To display solidarity in their War on Vowels, I'll relay that KVN were WTTY, working smirks into some of their otherwise facially straight synth-pop sugar. Example: Sampling the age-old dialup noise (of course you know the one) at the beginning of a song apparently called "Internet," then straight-facedly delivering the lines "You got me feeling like it's 1999/And any second we could be offline," in Spice Girls-reminiscent unison. "Party For One," a skittering and funny dance offering in which the trio each dropped their instruments and donned Mic Check T-shirts (the live music app sponsoring the show) to bust down at stage front, successfully contradicted the song's name: It was a party for everyone there.
But KVN are SRS and have serious talent, too, making sure to leave that all over the stage amidst all the smiles, laughs, and wry cracks. "Burn the Breeze," featuring an imaginative double-synth break, was a catchy, danceable highlight. Occasionally, the '80s-y polish was a bit sonically excessive for my taste. But all three KVNs (KVNers?) are excellent and versatile singers and instrumentalists; Primo's range, in particular, is ridiculous; and if you have a free Thursday night and are seeking some infectious dance-pop fun, KVN's final night of their residency this week is a worthwhile option.
Opener: Lena Luca
A pop talent occupying a distinct lane from the trio they opened for, Lena Luca impressed with raw, let-it-bleed expressiveness, vocal power, and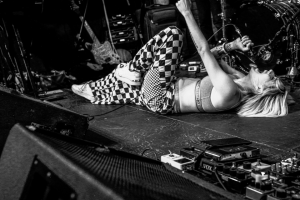 subtly eclectic journeys across different pop-adjacent genres.
Lena (who uses they/them pronouns per Instagram) boasts range to spare and dexterous phrasing, the latter of which particularly came out during the likes of soul-pop highlights "Gravity" and the slightly funkier closer "Rosebuds" (nominated last year for Best Austin Video at the Austin Music Video Festival). "Clown" was another funky performance that even appeared to dip a toe in psychedelia, and "Runaway" featured a space-rock guitar solo and Lena dropping to their back onstage as the song climaxed. Formerly at the front of the electro-rock band Elevaded, Luca is someone with enough juice and engaging presence to be headlining some major local shows in their own right.