(Photo by Hubert Ryan Vestil @hrv_images)
Laura Lee Bishop — aka Primo the Alien — is full of plans: Short-term and long-term, grand and small, musical and nonmusical. Sitting with her for an interview at Austin City Limits Weekend 1, I got to hear about them all. Except in retrospect, I probably didn't hear all of them. And there's a good chance that between our interview and the writing of this post, the intergalactically minded Austin synth-pop artist and producer discovered other ventures to add to her list.
We chatted two days after her scheduled ACL performance — which was unfortunately cancelled, as her Friday early-afternoon time slot fell victim to the Thursday night storm that caused organizers to push back the festival start. So, a piece of Bishop's short-term plans suffered a setback. Specifically, a phase of this part of the plan:
"I want to show everybody they're fuckin' wrong, I want to prove everyone wrong, I want to kick everyone's ass, I want to stomp everyone's face. I want to reign supreme," she told me. "And I was supposed to do that on Friday. Now I'll have to wait till 2022, I think."
It might be evident from those words alone that Bishop operates with a chip on her shoulder — not an easy tell from her often-bright, '80s-drenched synth sound and her campy performing persona. But that chip is there, and it's got a lot of density to it: Feeling weird and out of place growing up in the East Texas town of Gilmer. Encountering everyday sexism in the music industry — say, from condescending dudes who assume you don't know your way around boards and equipment when you have a friggin' degree in music production. Oh, and the notion that 34 is too old to still be pursuing pop stardom.
After years of performing under her real name — including earning two Golden Tickets to Hollywood on "American Idol" last decade — Bishop launched the Primo the Alien project and persona in 2017. Primo is not a band, she's sure to note, despite countless concert goers who see her perform live with backing musicians (sometimes including her husband, John, on drums) and assume that it's a band. She is Primo — vocals, guitar, bass, drums, and production.
Although she's expanding her horizons with her newest material, Bishop's sonic output to date as Primo is ably represented by a few of the song titles in her catalogue: "To the Max!" (also the title of her 2017 EP), "1987," and her most heavily played track to date, "My Delorean," with programming and sonics reminiscent echoing the likes of Giorgio Moroder and Berlin (the band, not the city).
"I was working with various producers on some older material, and I was kind of tired of dealing with other people and asking other people's opinions, waiting on other people," she said. "So I started producing some things myself, and as I was producing, a theme [of] outer space and science fiction sort of started to present itself, and I was writing essentially a rock opera about Primo. Primo is an intergalactic assassin from the future sent back in time for a hit job, falls in love with the person she's supposed to kill, and stays in the '80s to rock."
She's wearing custom-made, triangular Primo the Alien earrings as she's telling me this, embodying the persona even without a performance this weekend. On my end, the stereotype of how small towns often react when confronted with a child of this creative bent kicks in. How does East Texas receive someone whose mind will someday land on a quirky sci-fi rock opera concept? So I ask her about Gilmer, population of about 5,000.
"Oh, I was made to feel weird. Oh yeah, for sure. I'm like the town pariah," she says. That last part is probably a joke. Probably.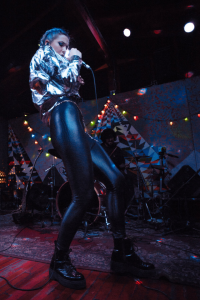 "No, no one likes me there," she continues. "I still have friends and family there, but definitely not the hometown hero or anything. I was definitely a fish out of water there, an odd man out, both in I guess the way I see the world creatively, politically, spiritually. So yeah, I've always kind of been like an alien, and definitely in my hometown. And I go back for holidays and stuff, but I usually try to stay in my mom's house and not venture out too much into the general population. We're just very different people. Very different. There's some gems there, some hidden-gem people."
Bishop has been in Austin for about six years, and even in a place that makes a show of its weirdness, she says she's still an alien at heart: "Maybe a little out of place sometimes, like a foreign entity in this Austin music scene of guitars. It's [really a] guitar town, a rock town, and I'm a little weird alien pop star girl."
So when I come back to her drive to prove people wrong, and all those asses she figuratively wants to kick …
"I didn't say figuratively," Bishop interjects.
OK, then. Anyway, she has a lot of people in mind.
"People from back in Gilmer, people from this town, people who you know, probably. People we all know. There's layers to all this shit. We're all friends, but are we? There's a competitive drive to all of us who do this. And that little spark in me makes me want to kick the doors in and say, 'Look at me. Listen to me, motherfuckers.'"
She laughs, then clarifies it's not necessarily about a particular person, but about knocking out misguided notions. One, there's the age thing. She's been recording and performing for awhile, and the growth she's witnessed in herself has made her disdainful of the premium that popular culture places on youth.
"I don't know if I've been told I'm too old. I just think there's an overall attitude towards youth that is unhealthy," she said. "Because you're only in that ideal age, it's like five years' time. You know what I mean? It's like 18 to what, 25 or something … and that's so fucking stupid, when people are living to be 100 years old, that you're gonna put such a stupid emphasis on this, honestly, period of your life when you're such a fucking idiot, too.
"Myself as an artist at that time is an inferior specimen compared to who I am now. I look back and I was doing my thing, and I was working and everything. But I had no idea. The artist I have become in my 30s is so much more powerful and so much better. I am a better entertainer, I'm a better writer, a better producer, a better performer, a better businesswoman. I create better relationships, all of it. It's interesting that we value this time in people's lives when they are the most stupid."
Another antiquated notion she's waging war on: Ingrained sexist attitudes in the industry. She faced it even from peers while studying at the Clive Davis Institute of Recorded Music at NYU, where she earned a degree in record production. As she studied the art, she carried an inherent disbelief that she'd ever actually produce for a living — because of that dying, yet strangely persistent default that doesn't encourage women to become producers.
"I know how to work a really crazy patchbay, I know how to use a console, I did all of that stuff. But there was always something in my mind that was like, 'Oh, you won't do that. That's not what you will do.' Because I wasn't told, really," she said.
"My program was wonderful, but [there were] other students who, it was a group project, and all of a sudden the men are spearheading things, and I am plugging stuff in, without a voice. It is just an attitude that [exists]. So there aren't as many female producers, because we're just not told that it's a thing that we do."
The sexism she continuously faces today is similarly dismissive and microaggressive, adding up as she hears the likes of "Don't worry sweetheart, I'll handle it," or gets asked if she understands basic production and equipment concepts.
"You don't need a penis to press buttons on a computer at all," she adds for emphasis. "I have an index finger. I'm fully capable of producing an entire record, and I've done it from my bedroom, an entire record. An album. Those things are fully possible regardless of your genitalia."
The latest Primo offering, the four-song EP Heart on the Run, features the single "Do It Again," a Spotify Fresh Finds playlist pick and the track she's most proud of to date. Specifically, she's proud that the simplicity of its chorus — "I wanna go back and do it again," as she tries to cajole a do-over with a past love — has resonated with so many people.
Bishop's working on a new album with local producer Taylor Webb that she says will be "a really big changeup" from the legwarmer-and-electric-blue-mascara sound. And those plans that are piling up in her head go well beyond the music.
"I want a comic book, I want a video game, I want a TV series, I want a clothing line, I want a makeup brand," she said. "I got lots of ideas in this little brain."