For someone who hasn't left the United States for a spell — three and a half years, to be exact — catching the closing day of Austin Psych Fest on Sunday was a treat in something of an unexpected way.
Day three lived up to the festival's name, most certainly, but this was diverse music that came courtesy of a widely cast international net. Acts that were either foreign-born, or conspicuously reflected sounds associated with parts of the world beyond American borders, were the rule. On a hot day at Far Out Lounge that turned into a perfect night for aural and visual trippiness, the global survey of psych — in all its degrees and forms — was a welcome wrinkle. From the West Coast to West Africa to western Europe, from cumbia to indie rock to instrumental dance fare, representation ruled on multiple levels.
Sunday night's headliner Cuco (top photo) can repeatedly be mistaken for Australian psych stars Tame Impala in a blind hearing test. (Recent single "Best Disaster" is just one case in point.) But the California-born son of Mexican immigrants (real name Omar Banos) mixes Latin flourishes and/or Spanish language into his trippy rock, exemplified by his set-closing early hit "Lo Que Siento." Bathed in the shifting colors from his classic circa-1968 visual backdrop, Banos capably led one synth-and-shimmers anthem after another. He arguably has some of the edge Impala has lost in recent years as they've moved into a more polished sonic space, and his easy live presence fit the mood of the nearly weatherless evening.
The longest set, somewhat surprisingly, belonged not to Cuco but to his predecessor on the main stage: Melody's Echo Chamber, the longtime project of French dream-pop veteran Melody Prochet. Alternately ethereal, danceable and driving, MEC began their hour-and-10 set just prior to the sun dropping down to the west behind them, eliminating harsh backlight that would have taken away from their set a bit had it not ceased. With the sun out of the picture and dusk starting to fall, Prochet struck the figure of genial chanteuse with a hint of mystery. "Unfold" lived up to its name, gently unfurling with easy, down-the-hatch solos and Prochet's purring falsetto. "Where the Water Clears the Illusion," off 2022's Emotional Eternal, stood out with a gorgeous melody. "Shirim" merged mysticism and funk inflections in an almost unbelievably seamless way, with Prochet's melodic phrasing suggesting Ellie Goulding buried in a woozy haze.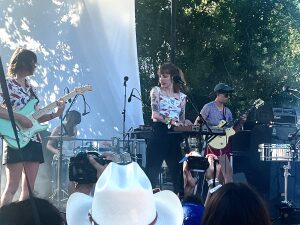 The standout performance for me, though, came from UK quartet Los Bitchos. By the very nature of what they are — almost entirely instrumental, in a world where you just don't see that much in popular music anymore — they were bound to stand out to some degree. But their nimble hops through and mashups of pop, psych-rock, cumbia and garage rock are considerably more engaging live than on record (I gave their debut album a listen around when it came out about a year ago, and it didn't make a lasting impression). In fact, onstage they're flatly a head-bobbing, body-moving kick. From the Latin-y breeze of opener "Good to Go!" through more charged moments like their garage-fueled cover of "Tequila!" (with Spanish vocals!) there wasn't a dull moment to be had. At one time — before most people who will read this were alive — instrumentals could be chart-topping U.S. hits, and some of that now-firmly vintage rock 'n' roll and pop represents my first exposure to music I loved. Los Bitchos — Serra Petale on guitar, Agustina Ruiz on synths and keytar, Josefine Jonsson on bass and Nic Crenshaw on drums — are somewhat a throwback to that time, but also a refreshing and somewhat lonely torch-carrier for lyric-less music.
Other international performers made an impression as well. Malian blues guitarist Vieux Farka Touré, fresh off making an album with Houston's Khraungbin, made me a little less disappointed about missing out on Niger's rock-guitar standout, Mdou Moctar, on night one of Psych Fest. Touré's reverb-drenched tone carried tasty similarity to Moctar's, and his casual virtuosity was impressive. And earlier in the day, the charm of South Korean trad folk-pop nonet (that's 9!) ADG7 was something completely different, cheerfully and energetically shining a light on a musical palette many of us wouldn't even think to seek out on our own.
Cheers to our world, all its brands of hallucinogenic-reminiscent music, and all of the purveyors of that music who are able to make it to Central Texas to give us a taste of their vision.