A riddle: If you're watching a Tejano band play Jimi Hendrix's "Foxy Lady" at an Americana music festival, where are you? It's got to be the 2022 Old Settler's Music Festival, the Austin area's longest running, multi-day, live music event.
Planted now at its "forever home" amid the rolling meadows and woodlands southeast of Lockhart, Old Settler's continues to assemble a strong and diverse lineup for the pleasure of its faithful fans, most of whom camp for three nights (or longer) on the 29-acre site.
One camper and I spent a leisurely half-hour under a canopy trying to decide how best to describe the 35th annual installment of Old Settler's. "It's got lots of bluegrass acts, but it's more than a bluegrass festival," I offered, with which he agreed.
We went on to rule out "roots" and "country" and "folk" and "acoustic" – all much too limiting to define the 30-plus artists on this year's bill.
"It's a hippie festival," the camper offered, and we both immediately agreed. "Hippie" aptly describes the crowd and the vibe and the culture and the music. Despite the amount of alcohol being consumed, I didn't see nearly as many stumble-down drunks as I used to encounter at the Austin City Limits Music Festival. I didn't smell as much weed as I expected, but I heard plenty of glassy-eyed men and women mumbling about acid and mushrooms. Ponytails, not man buns, flourished.
Like the idealistic early days of hippiedom, the fans and staff and musicians and volunteers (masses of dedicated, longtime volunteers make the festival work) value friendliness, sincerity, and sharing. Campers actually listened to the answers when they asked, "How ya' doin?" Strangers shared "good mornings" with smiles and warmth and maybe a cup of coffee.
And the performers, whether at late-night, three-person jam sessions or on the main stages in front of thousands, brought their genuine, human selves to Old Settler's. The crowd recognized it and appreciated it.
Several times my friends and I commented that shows felt like private concerts set among the vast open space of the main festival arena. When I asked Old Settler's spokesperson Heidi Labensart for the attendance numbers and whether they met with organizers' expectations, she replied, "It is best to say it was a great festival, and everyone who came out had a great time."
So with that background, here are some of the musical highlights from my four days of Old Settler's 2022: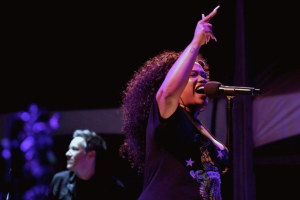 The most high-energy show of the festival came at the last set played on the big stages. New Orleans funksters Galactic lit up Saturday night with a powerful performance fueled by trumpeter Eric Gordon and guest vocalist Anjelika "Jelly" Joseph. With tunes like "Yes We Can Can" and "Clap Your Hands," Joseph pushed and cajoled and incited the crowd to clap, wave their arms, or shout their approval. Throughout, guitarist Jeff Raines, bass player Robert Mercurio, and drummer Stanton Moore laid a rock-solid funk foundation for Joseph and Gordon.
And, to put a magical touch on a gorgeous Texas spring evening, a favorable breeze blew an almost continuous river of glistening soap bubbles from atop a nearby hill, high over the audience, and beyond the stage.
From "99 Shades of Crazy" to "Lochloosa," Friday night headliner JJ Grey & Mofro delivered what the crowd craved: a giant helping of smoky, southern-fried, blue-eyed soul. The band ripped through "House of the Rising Sun" like they owned that classic. Grey launched swampy ballads off the back end of mini-sermons on modern life. The group was unpretentious and obviously happy to be back on the road after the long COVID shutdown.
"We're all like bears coming out of hibernation and ready to eat, ready to get down," Grey told a hometown Jacksonville, Florida TV reporter before starting his current tour in mid-March.
Jam bands often get a rather raw deal from the tight schedule of a festival format. Unless they have a longer slot at a day's end, musicians who frequently play a single song for 20 minutes-plus have to squeeze their entire shows into 60 minutes. Jam band fans call it "the festival set."
Bluegrass jammers Railroad Earth not only had to work with the one-hour limit at Old Settlers, they also were celebrating the long-delayed release that day of their new album All For the Song. Todd Shaeffer, Tim Carbone, John Skehan, and company played four tunes from that album, brought bluegrass godfather Del McCoury on stage for his classic, "High on a Mountain," and found time to stretch out a bit on old favorite "Mighty River."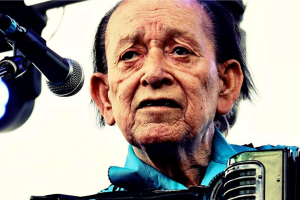 Multi-Grammy-winner Flaco Jimenez of San Antonio joined his old friend Max Baca and Los Texmaniacs for a crowd-rousing rendition of the Texas Tornadoes' "Who Were You Thinkin' Of?" Mandolin legend Peter Rowan sat in for several numbers with the ensemble and later played a full set with Los Texmaniacs under the name of Peter Rowan's Free Mexican Airforce. The Airforce earned rousing applause with a sweet and heartfelt version of the Rowan/Jerry Garcia classic "Moonlight Midnight." (And by the way, it was Los Texmaniacs with guest guitarist Will Owen Gage who cranked out the "Foxy Lady" of the riddle.)
Rolling Stone calls American Aquarium leader B.J. Barham a "Southern Springsteen." The songs he performed at Old Settler's didn't live up to that billing. His vocals do, however, recall his idol Tom Petty, and the band (including bassist Alden Heges, top photo) has some Heartbreakers-worthy chops. Aquarium fans must be happy that Barham stopped drinking, as that's a major driver of his songwriting. It seemed at least half the songs in the set dealt with the travails and triumphs of sobriety, and lyrics like these (from 2020's "The Long Haul") are decidedly un-Springteenish: "See the hardest part/Of getting sober/Is learning a drinking buddy/Ain't the same thing as a friend."
Recommended, and not:
Two artists I knew little or nothing about beforehand but enjoyed enough to look forward to seeing again: Maggie Belle, a wonderful singer from New Orleans whose voice has a lot of Amy Winehouse touches; and Sierra Hull, once a tiny mandolin wunderkind, now a thoughtful 25-year-old singer-songwriter with a tight backing band and still-wicked mandolin chops.
I knew the California Honeydrops were a good band when I first saw them at the High Sierra Music Festival back in 2016. They've matured since: more fun, better songwriting, better performances. They put out a highly danceable funky, bluesy, horns-y mixture.
McCoury is a bluegrass legend, and his family band is tight and top-notch. But McCoury's high, nasal vocals grate my brain like an icy shower or a whiff of strong ammonia.
Austin blues guitarist Zach Person is obviously talented, but the bass and rhythm guitar backing track that accompanied Person and his drummer detracted decidedly from his show.
Keeping with Old Settler's tradition, Austin's own Shinyribs played the final set on Sunday afternoon to close down the festival. Mic in hand, front man Kevin Russell sashayed through the crowd, dancing with the ladies, singing Freddy Fender's "Wasted Days and Wasted Nights."
That's a great song, and Shinyribs rocked it, but it certainly didn't describe the exciting days and enchanted nights I spent at Old Settler's 2022. Something like Robert Earl Keen's "Feelin' Good Again" would have been a much better match.
(All photos by Steve Levine)