Cold, nighttime, and — even by average indie rock show standards — a powerful, pervasive, nearly inescapable smell of ganja: Honestly, I don't know if you could've drawn up a better environment for a Destroyer show than what the Mohawk had last Wednesday night.
In front of what looked to be a sellout (or close) outdoor crowd, the veteran Canadian indie rock band basically had the ideal scene all set for it. Frontman Dan Bejar (top photo) and his skilled band matched the climate perfectly with 90 minutes of the moody, arty, sometimes dirge-like rock it's become known for during a nearly 25-year career.
As a first-time Destroyer spectator, I don't feel like I'm on out on a limb in saying January and February are the best months in which to check them out live in Austin (at least, outdoors). Sure, most Austinites are here, at least in part,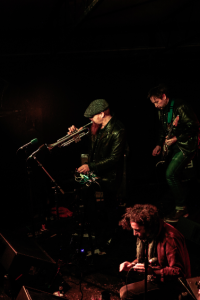 because we're heat-leaning partisans, and our version of "cold" is something most of the nation scoffs at. So a show in sub-50 degree weather, in and of itself, isn't something we seek out.
But there's a special coldness, an airy detachedness to Bejar and Destroyer's music that doesn't work for everyone to begin with. You have to be in the right mood for it. And an hour and a half of Destroyer just wouldn't work the same way under the 96-degree crucible of a July festival. No, a late-February night date outside is perfect for enveloping yourself in what might as well be the definitive Destroyer reality music video. They're a little bit Joy Division, a little bit '80s synth-pop, a touch of Pink Floyd and a lot of Bejar's unique, gently nasal poetic wordscapes. Throw on your pea coat and scarf, step into the black, brave the cold, and you'll see Destroyer as intended.
Whether it was the brooding, electric piano-driven ballad "Bangkok," off 2015 album Poison Season, or the near-whispery stomp of "It Just Doesn't Happen," a standout off excellent new record Have We Met, Destroyer was an impressive collection of live players working on the ideal scenic canvas in front of them. Active, enthusiastic drummer Josh Wells makes up for some of the liveliness Bejar and the rest of the band solemnly punts on. And I have to say, no band I've seen has ever made more use of distorted electric trumpet. J.P. Carter rung his three-button brass instrument through effects that made the trumpet sound like guitar — or sometimes like nothing else at all — on the likes of ballad "foolssong," adding some extra hints of psychedelia. Alongside Bejar, Carter was the night's costar.
While Destroyer — like many indie acts — aren't exactly slaves to traditional showmanship, their encore finale showed they can rock, and close a show, in something resembling the traditional sense. "Dream Lover," another Poison Season track, drove with a satisfying alt-rock urgency that showed they're not all about airy mood-pieces.
This was a fine show, with a frankly touching reminder — given the size of the crowd on a cold Wednesday night — of how well Austin supports indie rock. Bejar and Destroyer have been around for forever for a reason, and Austin consistently rewards continuing musical creativity.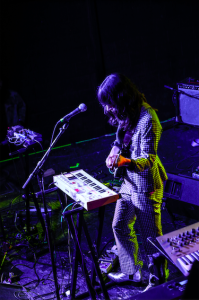 Opener: Eleanor Friedberger
Given the fullness of sound that usually marks Friedberger's catchy '70s-style-radio-pop-with-some-quirks, I was surprised to see her appear onstage as a one-woman band. I'll admit, I was initially a little disappointed by that development. The Friedberger I know is a neo-traditionalist with crystal-clear backing and a snappy beat behind her. By definition, this — Friedberger by herself on guitar, synth and beats — was going to be something different.
That said, different was good. She was good. Would I have still liked to have heard a whole band let loose on the likes of the upbeat "He Didn't Mention His Mother" and 2013 pop gem "Stare At the Sun"? Sure. But Friedberger — navigating the cold multiple times with the time-tested secret of rubbing one's hands together — made her voice and her numbers cut through the chill, with a guitar-programming marriage arguably more appropriate for a Destroyer opening than what I was envisioning. She's more than worth seeing again, no matter how many other humans she brings onstage with her.
All photos by Nicole Berlin Photography