(Top photo by Eryn Brooke)
Upheaval, self-reflection and redirection were hallmarks of the pandemic. Some people — seemingly thousands — converted their isolation into sourdough-making class. Others realized their needed professional and spiritual direction and their actual one weren't anywhere near the same, and adjusted accordingly.
For Charlie Faye, who's made her name with a sound hearkening to the pop, soul and girl-group sounds of the '60s, the pandemic was part of a multi-factor storm that propelled her career into a new direction that perhaps no one on the outside might have seen coming: applying that Ronettes/Brill Building-derived sound to music for children and families — and, at times, applying a normalizing message of inclusion for kids that reflects modern cultural shifts.
Inspired by her young daughter's fast-developed affinity for the music where Faye's roots lie, Charlie Faye & the Fanimals, out July 21, is a record with classic-sounding production that will sound instantly familiar to anyone who's listened to Charlie Faye & the Fayettes, her most prominent musical project of recent vintage. But the lyrical subject matter of the Fanimals, a five-piece crew, is decidedly geared toward tots.
Faye has not only become a children's music-focused artist; she's become a local proponent of it as well. She founded a local family music series, The Breakfast Boogie, and will celebrate the release of the Fanimals' album with a Breakfast Boogie show Saturday, July 22, at the Far Out Lounge & Stage.
In her telling, this fairly dramatic shift began with the pandemic, which of course wiped out South by Southwest in March 2020 — and, with it, showcasing-artist slots for the Fayettes. The successful trio — Faye, Akina Adderley and BettySoo — found its work ground to a halt. Faye's daughter, Edie, was 4 months old.
"A lot of things really changed for me at the same time: I had a baby, the pandemic hit and then soon after I went through a divorce, became a single mom. And so most of my time was being spent with my daughter, and playing with my daughter and listening to music with my daughter," Faye said in an interview earlier this week. "And as far as what we were listening to, I just exposed her to all the stuff that I like. Old Motown, Stax, Brill Building writers, and all the stuff I love."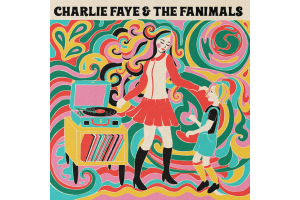 Edie was a willing and enthusiastic sponge. Even before she could talk, she found a way to express her favorites among the classics her mom was playing, like the Ronettes' "Be My Baby" and the Beach Boys' "God Only Knows."
"When she wanted to hear that song, she would point to her nose," Faye said. "So it was pretty incredible to witness her falling in love with music and her having such a strong desire to hear certain songs. As she got a little older and started preschool, and I had a little more time to myself again, I had space to get back to my creative life, which is songwriting. And what ended up happening kind of naturally is I started writing songs in the style that I love, but with my daughter in mind."
While unequivocal kid subject matter abounds on Fanimals — titles like "Snack Time," "Cookie Tree" and "Puppy in the Bath" convey the cheerful cuteness therein — the Motown/Stax-ish instrumentation and production are guaranteed to allow way more parental re-listenability than, say, the famously infamous "Baby Shark." The organ of "Snack Time" or the classic tight horns of "7 Days a Week" will get adult fans of the classics bobbing their heads. Faye's gentle, ear-to-ear delivery exudes sunshine throughout.
And in two songs in particular, "Milo Wears a Tutu" and "Me and My Family," Faye wades into societal-inspired waters with simple messages that, in a perfect world, would be just as resonant with all adults. "Me and My Family," the standout number, is a joyful roll call of different family compositions — starting, for example, with "Momma and Mommy and me/Add one more and baby brother makes four." Later, she shouts out not just same-sex parents, but also split-up coparents as well, and emphasizes that, "Everyone deserves a song to feel the love."
"Milo Wears a Tutu," co-written with Sarah Hickman, is based on Hickman's now-adult nephew and his love of wearing tutus as a youngster. It tackles the traditional, crumbling gender-role boxes by telling the story of a boy who just says, "I'll wear a tutu, if I want to," and grows up to be a man, "six feet tall and strong," who's comfortable doing the same thing when "It kinda feels like a tutu day."
"It's just one kid's story," Faye said. "The thing is, it's hard to write songs like about social issues that cover all the bases. And I feel this way with 'Me and My Family,' too. When I was writing that song — and I wrote that song for Edie and for other kids I know who just have less conventional-looking families. Because I want them to hear a song that isn't just, 'Mom and Dad …'
"I realized I only have three verses, but there is so much to cover. There are so many different kinds of families, and it tortured me a little that I couldn't include more, that I couldn't fit more into the song. But I had tell myself it's OK. Every song tells a story. It doesn't have to tell everybody's stories. The point is to tell these stories that are not being told as much."
Faye considers Charlie Faye & the Fayettes — who released full-lengths in 2016 and 2019 — to be a finished project that "reached its apex." Her plate is plenty full now, with the Fanimals, the Breakfast Boogie and her other contributions to the local music scene, including Daydream Believer Creative, the music consulting and PR firm she runs with Adrienne Lake. After the early-pandemic turmoil, she's in a better place personally and professionally.
"I'm definitely on the other side of all the hard stuff," she said. I'm really happy, and I'm feeling really fulfilled in my career, and with my friendships and as a parent. Edie's amazing, and she's also in preschool now, so I'm not parenting 24/7. I have a little more space for myself and for my creative work and social life, and it's a nice balance. Finally, I feel like I found a really good balance."
The Charlie Faye & the Fanimals album release show in The Breakfast Boogie Series begins at the Far Out next Saturday at 10 a.m.