Anybody who does all three days of ACL — really does it, as oppose to just camping in one convenient spot all day — knows what it does to your feet. Specifically, it murders them. Which is why opening day of the second weekend was such a happy accident for this music writer who's already rocking an untreated bunion (who has time for foot surgery, honestly? Not me.)
Almost everything I planned on catching was either on the Honda stage at the west end of Zilker Park, or the Miller Lite stage directly to its right — right next to which sits the press lounge from where us media types work on bringing you coverage like this. Grab these kinds of accidents when you can get them, and savor them. The situation basically gave my feet the equivalent of a light day at the gym, and let me tell you, they're loving it right now.
And for the second time this year, my ears and eyes loved Wet Leg. So did the ears and eyes of everyone who was there at Honda at 2:30 (and there was a fairly bananas crowd for 2:30 on a Friday). The Isle of Wight postpunk quintet is one of the most engaging, accessible and freshly popular indie acts going right now, which is why it was a bit of a surprise that they weren't on a little later.
Charming, visibly exuberant and packing their rock entrees with equal parts riffage and wry wit, they were even better than the packed SXSW Mohawk set last March. The first thing I looked for was whether they would seem less shy than in that show, where lead vocalist and general emcee Rhian Teasdale beamed constantly but always seemed a little timid on crowd engagement.
The answer to that question — whether they'd seem more at home — was "yes." In fact, aside from the great musical moments, nothing distinguished Friday's performance more than when they called attention to a fan's cardboard sign asking for the band to draw a tattoo, and including a small paper canvas to do it. So, with Teasdale clearly taken with that request, they brought the sign onstage and granted the wish. Hester Chambers, the lead guitarist, drew first, as Teasdale showed clever improv skills with extemporaneous song accompaniment by the other Wet Leggers. Just part of Teasdale's on-the-spot couplets: "Hester Chambers, there she goes/What is she draw-ring? No one knows." (Yes, apparently the English really do say "draw-ring" and, to me, it's quite adorable.) Once Hester was done, it was Rhian's turn, and the result is what you see at right. They're an artistic double threat now.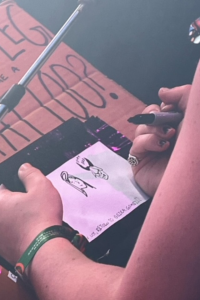 Oh yeah, and the music — it was hard-hitting, edgily snappy, and the performances contained some sonic variance from their great debut album that made you feel like you weren't watching a band running through its record by rote. I'll likely have more to say on that when I recap the entire festival — but for now, suffice to say that "Oh No" was every bit the the neurotic garage stomper it is on the album, the subtle aspirations to rock grandeur of "Too Late Now" came off even better with some nice live adjustments, and "Chaise Longue" was explosive as the closer. That lead guitar break is such an all-timer that I can't decide whether it would be a good or terrible thing for it to proliferate/possibly get ruined by overexposure in commercials and TV sporting events.
While it's always a possibility that a band's great ideas all get spent on album one, it seems equally possible that Wet Leg can rule the rock world if creative drivers Chambers and Teasdale want it. Next time you see them at Zilker, it won't be at 2:30.
Other notes from Friday
There was no reason for me not to be excited to see Phoenix, or not to anticipate something good from their performance. But their firm status as always-there-if-you-need-them indie rock elder statesmen made me sleep on them a little. Between the high anticipation for an influential and now-revered act such as Paramore, or curiosities like catching Boy George and Culture Club, for me the shaggy-haired Frenchies got lost in the shuffle a bit. That is, until they unequivocally kicked ass in their early evening set. Leaning into the Euro-club flourish that's always underpinned their electronic rock — including with bright and colorful backdrop visuals — they managed to smash through all their biggest and best hits with a polished aggro. The standout was "Entertainment," which they busted out second — it filled every inch of that end of Zilker. And Thomas Mars' very thorough crowd surf to cap the set (top photo) was — despite not coming during an actual song — somehow an extremely fitting and entertaining final connection.
The Chicks: Well, after checking out the first hour-10 or so of their headlining set, I have to say, I get it a little. (Pretty sure I reacted similarly to Miley Cyrus' performance at last year's festival.) Growing up in an era where the pop-country music of the Chicks' contemporaries seemed — how do I put this euphemistically? — rancid, I wasn't sure how much I'd personally get out of their set. But Natalie Maines (who celebrated a birthday Friday) can really sing the hell out of everything, their wide and attitude-filled palette of subject matter justifies all the love their hardcore fans showed in singing along en masse to almost every selection; and Martie Maguire's relentless fiddle adds more of that trad-country texture that's pretty much a requirement for me to even tolerate any country music recorded after about 1974. "I get it" is probably as far as I'll go, but trust me — under the circumstances, winning me over to that degree is an accomplishment.