(Top photo by Justin Cook)
For awhile, I've been fascinated by the idea of how our makeup as humans — whether genetics or nurture — might have left us just a DNA strand, a particular experience, a half-step away from becoming someone or something else.
That idea — hardly original, but always intriguing — bubbled up as an after-the-fact thought following my recent chat with rising Austin rapper Deezie Brown. Specifically, I wondered if Brown — a longtime sports fan and an artistic mind in the most traditional sense — ended up just a few minuscule adjustments in human code away from being a sportswriter. And/or, maybe a sports fiction novelist.
This thought undoubtedly occurred to me because I used to be a sportswriter for a living. It's a profession where, if you're making an effort to do it right, you're trying to tell a story. You're trying to go beyond what's happening on the field, court, pitch or whatever surface, and find and broadcast texture and depth where none might facially exist. And if you're profiling an athlete, you hope, essentially, that you make them into a character in a compelling story.
Characters are central to the Bastrop-raised Brown's artistic pursuits, and have been for a long time. His upcoming album, 5th Wheel Fairytale, promises to introduce all kinds of new faces into your ears; it's a conceptual work with seven main characters. Also central to some of his musical work so far has been one particular sport: basketball. And 5th Wheel's leadoff single, "Malice at the Palace" — named after most infamous American sports riot of the 21st century — invokes that 2004 brawl between the Detroit Pistons, Indiana Pacers, and various drunk/unintelligent fans, but only in an abstract tie to Deezie's own inner conflict.
Although it was just a sliver of what we talked about, "Malice" was the final push prompting me to seek an interview with Brown. I wanted to know how, nearly 20 years after an event the NBA would like to forget forever, he came to use it as an inspiration for his latest release. And when he talked about his history with playing sports video game as a kid, and how it aligned with his creativity, that's where I later wondered if he narrowly missed pursuing the path of particularly talented sports storytellers like John Feinstein.
On those games, where unique player profiles are part of the package, "I was always into like, the name, the age, the height, the weight, the [college], the high school. I was always into that, and seeing it right next to the character — almost like the tale of the tape when you're watching boxing," Brown said.
"Those were my favorite things to do as a kid. I would draw characters, and then I would draw little attributes or whatever next to them. And even if it was a boxer, I was doing this stuff with pencil, so I'd pretend that they were fighting, and [then] I would erase what their record was: 'Nope, you lost,' and whatnot. I was really into it."
So Deezie, now 32, became a dedicated character-builder at a young age. He began rapping and performing around age 15, while still living in Bastrop. His recording career began around the same time, when his uncle, also a rapper, was his liaison to relatives of a Texas hip-hop legend: the late DJ Screw, who made his pioneering name in Houston but, like Deezie, was a Bastrop County native. Screw's name, and fingerprints of his legacy, are all over Candy Blue Like Screw, Deezie's Southern hip-hop-drenched 2020 album with a cousin of Screw's, EC Mayne.
Brown's route to Austin, and a new level of exposure for his nascent career, was preceded by a tragic act of nature: the 2011 Bastrop wildfires, which destroyed his house and his home studio. But getting a post-office job allowed him to make the move half an hour northwest.
"From there man, things started to pick up. I had to start from scratch. But I had come from the family of Screw, I'd like to say," he said. "Learning from those guys — Shorty Mac, and then A.C.T., and my uncle Corey — learning from those guys and pretty much taking the skillset they taught me and taking that to the city to conduct myself as an independent, really helped me just get out there as an artist. That was really the starting point for my career."
Reception for Brown's work in the Austin scene has been widely and overwhelmingly positive. But like just about every artist, the pandemic did a little something to him. He says 5th Wheel Fairytale, conceived as an animated short film, will detail his fierce internal struggle to reconcile his reality with his imagination. "Malice at the Palace" will be majorly representative of that theme.
Brown has made his connection to high-level basketball far more than just a spiritual one, linking up with retired NBA star and suspiciously old-looking Eagleton High center Chris Bosh for production duties on several of Deezie's tracks, including "I Want It All," a tribute to Kobe Bryant. "Malice," though, is pure metaphor for something quite a bit more introspective than crossovers and Euro steps.
"Once 2020 hit, that was the first time that I could really understand what the word anxiety meant," he said. "A lot of different times, people would say, 'Oh, you probably have anxiety,' and I'd say, 'What is that? I don't know what that is. I've never experienced it.' But when 2020 came, mentally and physically, I just — I felt different. It was like an out-of-body experience, like they say. I really felt that.
"At the time, I just felt like I was battling what was going on in my imagination and what was going on in reality. For me, being a creator and a story writer, I was really trying to figure out how to get all of the cool things in my imagination and place them in front of me. That, for me, was the Malice at the Palace."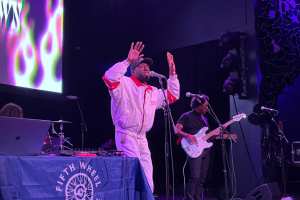 That theme will run through the album, scheduled to drop in early August. Minor spoiler alert: The Fairytale includes a castle.
"I have a 5-year-old, so we were watching a lot of 'Shrek' and I was just noticing my addiction to castles and palaces," he said. "Of course, I'm a big fan of basketball. Once I could put those two together and define what I was dealing with, but also define where I wanted to be, it just felt like Malice at the Palace. That's kind of where the name came from. It's me challenging myself and wanting to continue to figure out where my craft is and how to get there."
By now, it will be no surprise that Brown is an artist of varied ambitions. He's running a company called 5th Wheel Industries that's serving as a launching pad for all his artistic pursuits. Even as a young character creator, he couldn't draw very well, but computer animation programs are helping him get around that.
"I've gotten to the point where I can create my own characters. So now I have some characters to look at along with the music as well," he said. "So for me, yeah, it's a concept album that I'm able to present to a label as my resume other than saying, 'Hey, I got this many Spotify numbers — sign me.' It's like I'm trying to take the other way into the game, and saying, 'Hey, I have all of the ideas already. You guys can figure out some marketing techniques for me. I think we'd be a good team.'"
Showing a mind for enterprise as well, Brown even pulled off something of a minor miracle during our interview: He got me to see a potential use for nonfungible tokens, aka NFTs, in which I've struggled to see any utility or collecting value in as they've proliferated in the past few years. NFTs can be and often are pieces of art, and he hopes to leverage that to package his visual and auditory art together. He's got around 50 characters that are ripe for immortalizing in NFTs, but his current focus is on — new verb alert — NFT'ing 5th Wheel Fairytale's seven main players.
"I know a lot of people hear [NFT] and turn the other way. But they're exciting for an artist like myself because we're able to put out the art, and then it allows us to put our own price on our music," he said. "No shade to Spotify or any of that, but we're getting .000-whatever cent per stream, when I can put out an NFT project and get the exact amount I want for that piece of art, and just say, 'Hey, here's the music. You got it for free. Thank you for purchasing the art. I worked very hard on both, but I'm going to give you the music for free because I'm already getting your dollar for the art.'
"That, for me, is amazing, especially for someone that's creating their own art."